This book can be downloaded and read in iBooks on your Mac or iOS device.
Description
Richard Feynman: physicist . . . Nobel winner . . . bestselling author . . . safe-cracker.

In this substantial graphic novel biography, First Second presents the larger-than-life exploits of Nobel-winning quantum physicist, adventurer, musician, world-class raconteur, and one of the greatest minds of the twentieth century: Richard Feynman. Written by nonfiction comics mainstay Jim Ottaviani and brilliantly illustrated by First Second author Leland Myrick, Feynman tells the story of the great man's life from his childhood in Long Island to his work on the Manhattan Project and the Challenger disaster. Ottaviani tackles the bad with the good, leaving the reader delighted by Feynman's exuberant life and staggered at the loss humanity suffered with his death.

Anyone who ever wanted to know more about Richard P. Feynman, quantum electrodynamics, the fine art of the bongo drums, the outrageously obscure nation of Tuva, or the development and popularization of the field of physics in the United States need look no further than this rich and joyful work.

One of School Library Journal's Best Adult Books 4 Teens titles of 2011
One of Horn Book's Best Nonfiction Books of 2011
From Publishers Weekly
May 30, 2011 –
Jumping from the Manhattan Project laboratories of Los Alamos, N.Mex., to the beaches of Rio, Ottaviani and Myrick's portrait of the Nobel Prize winning physicist and general polymath Richard Feynman eschews chronology in favor of rhythm, and it's an approach that suits their subject perfectly. While Feynman's role in the creation of the atomic bomb and his contributions to 20th-century quantum electrodynamics are fascinating topics, they share equal time with his vaguely libertine (for a physicist, anyway) approach to romance and his tireless and uneven attempts to understand such nonscientific pursuits as art, language, safecracking, samba music, and cooking. Though he was indisputably one of the leading figures in the post-Einstein scientific landscape, Feynman's most enduring pursuit was making physics accessible to the layman, and several sections of the book illustrate how this impulse went beyond mere populism and came to dominate his scientific life. When he wasn't relaxing on the beach, he frequently chose teaching freshmen or lecturing to the general public over pure research. Myrick's light, sketchy inks keep the proceedings from bogging down, even in the lecture hall, and an extensive bibliography and sketchbook prove that the most dogged intellectual pursuit can still be a good time.
Screenshots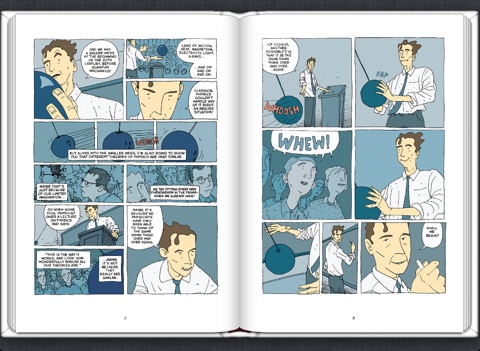 Customer Reviews
Delightful!
I really enjoyed this graphic novel
Surprisingly great
I now want every biography to be a graphic novel. This was unexpected and I loved it
A nice summary and a good summer book.
I've read much by and about Feynman and this graphic novel is a nice summary of those things. It's definitely light on science as one would expect The humanness of the subject, though, made this reader stop and think briefly more than once about personal philosophies and relationships. Overall a light and enjoyable read.
View in iTunes
$11.99

Category: Graphic Novels
Published: Aug 30, 2011
Publisher: First Second
Seller: Macmillan
Print Length: 272 Pages
Language: English