Flora & Ulysses
The Illuminated Adventures
Kate DiCamillo
This book can be downloaded and read in Apple Books on your Mac or iOS device.
Description
The 2014 Newbery Medal winner, written by beloved storyteller Kate DiCamillo. 

Holy unanticipated occurrences! From #1 New York Times best-selling author Kate DiCamillo comes a laugh-out-loud story filled with eccentric, endearing characters and featuring an exciting new format—a novel interspersed with comic-style graphic sequences and full-page illustrations, all rendered in black and white by K. G. Campbell. Includes an excerpt of Kate DiCamillo's newest novel, Raymie Nightingale.
From Publishers Weekly
Jun 24, 2013 –
Newbery Medalist DiCamillo and illustrator Campbell meld prose with comics sequences in a broad comedy tinged with sadness. Bitter about her parents divorce, Flora Buckman has withdrawn into her favorite comic book, The Amazing Incandesto! and memorized the advisories in its ongoing bonus feature, Terrible Things Can Happen to You! She puts those life-saving tips into action when a squirrel is swallowed whole by a neighbor s new vacuum cleaner, the Ulysses Super-Suction Multi-Terrain 2000X. Flora resuscitates the squirrel, christens him after the vacuum, and witnesses a superhero-like transformation: Ulysses is now ber-strong, can fly, and composes poetry. Despite supremely quirky characters and dialogue worthy of an SAT prep class, there s real emotion at the heart of this story involving two kids who have been failed by the most important people in their lives: their parents. It s into this profound vacuum that Ulysses really flies, demonstrating an unconditional love for his rescuer, trumped only perhaps by his love for food and a desire to make the letters on the keyboard speak the truth of his heart. Ages 10 up. Author s agent: Holly McGhee, Pippin Properties. Illustrator s agent: Lori Nowicki, Painted Words.
Screenshots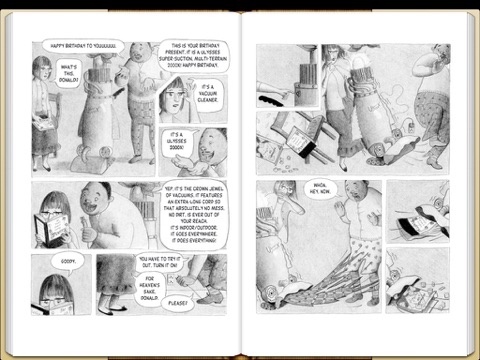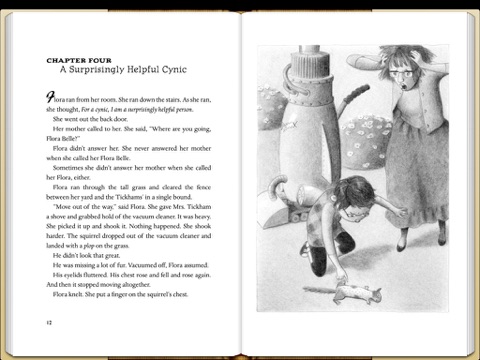 Customer Reviews
Flora and Ulysses
This book is OP! There are so many comic strips and a superhero squirrel named Ulysses!I love this book.
Worst
Worst book ever don't buy it
Rosendo Escamilla
The book was funny in begging of the book than it was not funny and has a sad part in the end of the book
View in iTunes
$6.99

Category: Action & Adventure
Published: Sep 24, 2013
Publisher: Candlewick Press
Seller: Candlewick Press, Inc.
Print Length: 336 Pages
Language: English