Frutas y Verduras
A Fresh Food Lover's Guide to Mexico
Margaret Hefner
This book can be downloaded and read in iBooks on your Mac or iOS device.
Description
The cuisine of Mexico is as rich and diverse as it is largely because of the variety of plant foods that are cherished and preserved by its people. 'Frutas y Verduras' means, in English, simply: 'Fruits and Vegetables' and this is guide is all about helping you discover ingredients from around the country. From 'Aguacate to Zapote Negro', with this handy guide loaded onto your tablet or reader, you'll have a wealth of information to refer to when you shop the mercados or encounter street-side vendors. Colorful slide shows make identification easy. Once you know what you're looking at, learn what to do with it: 
• When it's ripe.
• What it tastes like.
• How to pronounce it (audio)
• How to prepare it – prep notes, and simple recipes
• Which nutrients it's valuable for, and any cautions for those with health issues.
...and much more!
Stroll Mexico's market stalls with confidence, with English-language knowledge at your fingertips. Using its visual table of contents, you can identify those un-labelled fruits or vegetables. Audio pronunciation for each food helps you ask for it by name. Use this enhanced interactive eBook to help you to choose, prepare and enjoy the freshest of Mexico's flavors!
Disfrutaló! Enjoy!
Screenshots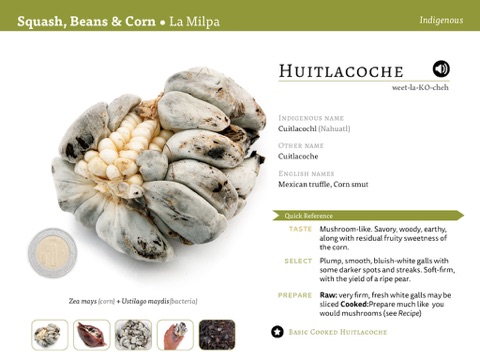 Customer Reviews
Frutas y Verduras
Margaret Hefner's Frutas y Verduras: A Fresh Food Lover's Guide to Mexico is a visually beautiful book, full of useful information. As an expat who has lived in Costa Rica for more than 8 years, many of the fruits and vegetables in Mexico were familiar to me, however just as many were new and even strange. This lovely book is full of photos and practical information to help you identify, purchase, store, and prepare the full range of fruit, veggies, chilis, cacti, and herbs available in Mexico. I downloaded it on my iPad and it works really well. I can take it with me to the markets, tianguis, and grocery stores to help me as I shop. This book is an invaluable resource and I highly recommend it!
Wish I'd had this on my first trip to Mexico...
...but you can bet I'll have it with me on my next! Ms. Hefner focuses on fruits and vegetables that are not so commonly seen outside her adopted country. Her writing is straightforward, commonsensical, and lucid. Her photos show all the right details, and her visual overviews by category -- say, all the fruits, or all the herbs -- are especially useful in making identifications, and in distinguishing between close botanical relatives. Highly recommended.
Unique and useful guide to the treats of Mexico
As a chef that loves the culture, food and tradition of Mexico I found this book to be a great guide to the common and not so common treasures of Mexican markets.
The produce of Mexico is truly unique, and often overwhelming to understand. For a traveler or ex-pat, it can be intimidating and confusing to see 20 varieties of bananas, apples, squash, etc. at the market and have no clue what the difference is. For a chef or inspired cook, those same markets can overwhelm your curiosity. This book is the solution for both. I especially enjoyed the seasonal info which will help to find the best that the market has when you visit.
Good photos, more info than you expected and all easy to navigate and read. Great pocket guide on the iPhone, but looks better on a bigger screen, so do your research at home and tag the ingredients you want to hunt down at the market.
Buen provecho!
View in iTunes
$12.99

Category:

Regional & Ethnic

Published:

Oct 14, 2016

Publisher:

Margaret Hefner

Seller:

Margaret Hefner

Print Length:

126 Pages

Language:

English