George Washington's Birthday
A Mostly True Tale
Margaret McNamara & Barry Blitt
This book is available for download with iBooks on your Mac or iOS device. Books can be read with iBooks on your Mac or iOS device.
Description
From award-winning author Margaret McNamara and New Yorker artist Barry Blitt comes this partly true and completely funny story of George Washington's 7th birthday. In this clever approach to history, readers will discover the truths and myths about George Washington. Did George Washington wear a wig? No. Did George Washington cut down a cherry tree? Probably not. Readers young and old who are used to seeing George Washington as an old man, will get a new look at the first president—as a kid. Perfect for classrooms, Presidents' Day, or as a birthday gift.
From Publishers Weekly
Nov 07, 2011 –
It s George Washington s seventh birthday, but he can t get anyone to acknowledge it. Another cold day, he says, dropping a 10-ton hint on his harried mother. But I guess there s nothing special about that. His stern father isn t cutting him any slack, either. Now clean your face and hands and powder your wig and occupy yourself gainfully until dinnertime, says Mr. Washington after George has carried out some punitive chores (the consequences of taking out his frustrations on a cherry tree). As Blitt (The Adventures of Mark Twain by Huckleberry Finn) chronicles George s slow burn in his elegant, irreverent ink line, McNamara (The Three Little Aliens and the Big Bad Robot) serves up delicious ironies ( Someday I ll be the boss of you, George mumbles prophetically as he s being condescended to by his tyrant of an older brother). She also sets the record straight with asides labeled Myth (George did not throw a stone across the Rappa-hannock) and Fact. This book should add at least a few giggles to any Presidents Day festivities, while reminding readers that every great man starts out small. Ages 4 8.
Screenshots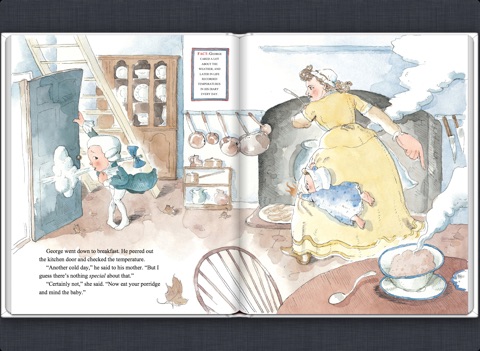 View in iTunes
$9.99

Category: Culture, Places & People
Published: Jan 10, 2012
Publisher: Random House Children's Books
Seller: Penguin Random House LLC
Print Length: 40 Pages
Language: English
More by Margaret McNamara & Barry Blitt