Happy Easter, Curious George (Read-aloud)
Curious George
H. A. Rey
Este libro se puede descargar y leer en iBooks desde tu Mac o dispositivo iOS.
Descripción
Happy Easter, Curious George is a winning holiday story based on H. A. and Margret Rey's popular primate and painted in the original watercolor and charcoal style. One fine Easter morning, George and the man with the yellow hat head to the park. George can't help but join in the fun when he sees children dyeing Easter eggs . . . but what's that man doing with their prized creations?
 
For more monkey fun, investigate www.curiousgeorge.com and discover all the latest on Curious George books, promotions, games, activities, and more! The audio for this Read-Aloud ebook was produced and engineered by Perry Geyer at Cybersound Recording Studios (349 Newbury St., Ste. 201, Boston, MA 02115). Music theme composed by Cybersound Studios (Perry Geyer, Silvio Amato, Michael Africk, Greg Hawkes). Engineers: Perry Geyer (music production and sound design), Rob Whitaker (editing and mixing engineer), Samuel Creager (editing, sound design, and mixing engineer), Marcus Clark, Corey Rupp. Assistant engineers: Dave Chapman, Mike Pekarski, Justin Sheriff, Daniel Wrigley, Andrew Sardinha, Mami Ienaga, Kevin Notar, Maria Goulamhoussen. Sheridan Willard, John Huang, John Schmidt. Voiceover by Nikki Lu Lowe.
De Publishers Weekly
01/02/2010 –
George and the man with the yellow hat go to the park for Easter festivities. As always, George's charm and curiosity liven things up: he experiments with mixing colors while dyeing eggs and even juggles them. Though he's initially confused about hiding eggs, when the Easter Bunny (a little, white rabbit) escapes, George saves the day. Fans will appreciate that Young's artwork hews to Rey's original illustrations; a page of sparkling stickers adds an interactive element. Ages 3 7.
Capturas de pantalla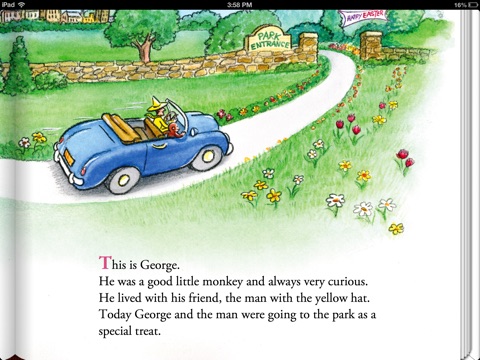 Reseñas de usuarios
Shiloh series
That series is awesome because it is awesome and awesome and awesome and awesome and awesome.
Ver en iTunes
$4.99

Nivel: Cursos: P-3
Categoría: Pascua y cuaresma
Publicación: 15/02/2010
Editorial: Houghton Mifflin Harcourt
Vendedor: Houghton Mifflin Harcourt Publishing Company
Páginas impresas: 24 páginas
Idioma: Inglés
Serie: Curious George