Heart of the Himalaya
Pat Morrow & Baiba Morrow
This book is available for download with iBooks on your Mac or iOS device. Multi-touch books can be read with iBooks on your Mac or iOS device. Books with interactive features may work best on an iOS device. iBooks on your Mac requires OS X 10.9 or later.
Description
Heart of the Himalaya is a rich photo tribute to the people of the world's highest mountain range by Pat and Baiba Morrow, two photojournalists who have travelled extensively through it for the past 33 years. 

The 170 high-resolution photos (optimized for the iPad's retina display) featured in the book are a distillation of more than 22,000 images that the Morrows have captured during their travels. 

The book also includes:

— three videos
— a synopsis of the Morrow's 20+ Himalaya trips
— diary excerpts
— a resource section useful to trekkers

While readers will recognize some of the region's landscapes, the focus is on the people who form the heart of this mountain world. This project was born from an acclaimed 2014 photographic exhibit of their work (also entitled Heart of the Himalaya) at Banff's renowned Whyte Museum of the Canadian Rockies.

Perhaps this "coffee tablet" ebook's most treasured images are from Tibet, a country under tight Chinese control that has seldom been open to foreigners since the early 1950s. The Morrows' photos of its monks, monasteries and market places capture a world that is being destroyed by a government intent on homogenizing an ancient civilization.

Pat and Baiba have travelled to the Himalaya for many reasons. 

— Climbing Everest in 1982 before guided expeditions created crowds and line-ups on the world's highest peak.
— Journeying 10,000 kilometres (partially by bicycle) around the Himalaya from Lhasa to Kashgar, and into Pakistan, northern India and Nepal in 1987.
— Filming mountaineering expeditions and medical/educational organizations from Pakistan to Tibet and Bhutan.
— Visiting shepherds in the craggy passes of Gilgit Baltistan and Tibetan refugees in Ladakh.
— Meeting Tibetan refugees in the remote settlements of Arunachal Pradesh.
— Trekking for the joy of endless walks at the top of the world.

Wherever they have taken their cameras (both video and still), the Morrows have focused on the people they meet — and have been particularly drawn to displaced Tibetans who have fled their homeland for safer lands. 

"Heart of the Himalaya" is a beautiful tribute to the people who are indeed the heart and soul of one of the world's most challenging and magnificent environments.

Pat Morrow is also author and photographer of "Everest: High Expectations," a multi-touch ebook.
What's New in Version 2.3
Minor technical adjustments and corrections .
Screenshots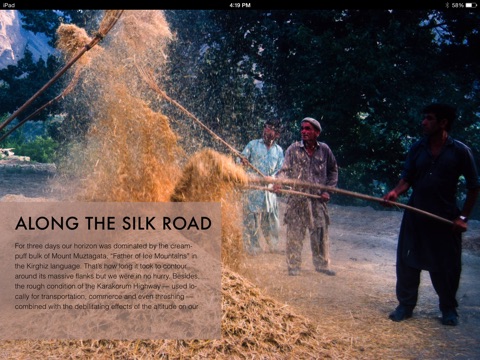 Customer Reviews
Heart of the Himalaya
Pat and Baiba Morrow's "Heart of the Himalaya" takes us on an unforgettable journey into the landscapes and cultures of the highest mountain range on Earth. Using few but poignant words, supporting the most striking and unforgettable photography I have ever seen, along with short, sometimes informative, sometimes funny video clips, this is not a book to read once and set down. Rather it is an artistic compilation that begs to be picked up again and again, for years or decades, to invigorate us with the wisdoms of an ancient culture and the power of the planet we call home.
Heart of the Himalaya: in the right place
Pat and Baiba Morrow have created an experience in this tablet eBook like the beyul described early on by Dr. Lhakpa Norbu Sherpa in a video interview. With the right preparation you'll have new insight and find amazing material in this iBook.

Many people come to the Himalaya looking for something. A few come and see. The Morrow's photography and text bring much meaning to the Himalaya. Their photo captions act as a guide to material you might not see such as on pages 6, 8 and 33.

The format allows you skim through, or pause and scroll through panels. But you have to engage to find the beyul. This book is a guide in that journey. No matter how much of the Himlaya you have been to, there is much to be discovered in their ultra-modern incaration of long lost scrolls.

Disclaimer: I have done trips with the authors and am mentioned in the book.
Sacred World Explorations
Review of 'Heart of the Himalaya' by Pat and Baiba Morrow

Whether you are an armchair explorer, old Himalayan hand, a techie, or simply enjoy fine photography and a good story, 'Heart of the Himalaya,' by Pat and Baiba Morrow, is a book that will thrill you and make you want to travel to the Himalaya either physically or visually.

For over 30 years Pat and Baiba have weaved their way through and across the Himalaya region exploring, developing lifelong friendships, inspiring and supporting humanistic and environmental causes, with wide open eyes (cameras) and zeal.

With their long-time friend and Bungalo Book publisher, Frank B. Edwards, they have created a cutting edge "Coffee Tablet" eBook, which is multi-media/multi touch, and launches from Apple's iBook platform. For the best results view on an iPad. With 'Heart of the Himalaya' you will experience the wave of the future in multi-media publishing.

Pat and Baiba Morrow have climbed (Pat was the second Canadian to climb Mount Everest in October 1982 and would later go on to become the first person the successfully climb the Seven Summits), bicycled, trekked, and have often spent extended periods hunkered down with locals or on extended remote journeys.

During these amazing trips Pat and Baiba amassed an archive of over 22,000 photographs, sound recordings, and unique videography (Hockey Night in Ladakh is my favorite).
'Heart of the Himalaya' uses this extensive archive to bring the viewer a magical multi-media experience that documents the Morrows unprecedented explorations into ancient cultures, esoteric rituals, lofty summits, and the most sublime landscape on earth. I applaud Pat and Baiba Morrow's achievements and I have been inspired by them for years; their journeys often fueling my own to that sacred part of the world.

'Heart of the Himalaya' is the real deal, created by an extraordinary couple, and I wholeheartedly encourage readers to pull out their iPads, settle into a comfy place, and prepare for the journey of a lifetime…The adventures of Pat and Baiba Morrow. Thumbs up and six stars! Rob "Tor" Torkildson
View in iTunes
$4.99

Category:

Asia

Published:

Oct 23, 2014

Publisher:

Bungalo Books

Seller:

307681 Ontario Limited

Print Length:

103 Pages

Language:

English

Version:

2.3
More by Pat Morrow & Baiba Morrow