House Beautiful Style 101
400 Designer Secrets to a Beautiful Home
Lisa Cregan
This book can be downloaded and read in iBooks on your Mac or iOS device.
Description
Want to change your home? Baffled by all the available design choices? House Beautiful helps you define your style--and get the look you love in every room.
With advice and insider tips from dozens of designers, this entry in the magazine's popular pocket guide series (which includes Colors for Your Home and Fabrics for Your Home) simplifies all your decorating decisions. A fun visual quiz helps you get started. Then an overview of hallmark elements and designers for five distinct decorating styles leads into room-by-room insider advice on selecting everything from furnishings and colors to carpets, window treatments, and lighting. It's a fresh approach to decorating!
From Publishers Weekly
Oct 03, 2011 –
In a book that groups decorating ideas by idiosyncratic styles (glam; new ruralist; traditional with a twist; modernist; accessorator), there s something to intrigue (love the little pink refrigerator) and horrify (zebra pillows against purple walls? really?) everyone. A quiz at the beginning helps readers fit their tastes into the author s schema. Designers comment on photos of their work, explaining their choices. A master class poses questions ( What s the best way to display books? ) to a variety of designers. Fabricators of all items are identified, so readers can find them or simply be inspired by them. There s not much to study in depth. The book is photo heavy and text light, so it functions essentially like a shelter magazine, with ideas to dream on.
Screenshots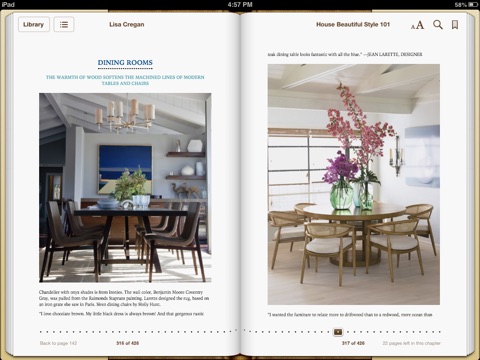 Customer Reviews
Practical, usable advice from experts w gorgeous pix
For a novice trying to determine how to update my home where I've lived for 12 years - I NEEDED inspiration. Great photos and advice from experts.
House beautiful style 101
I keep coming back to this book. It's one of those decorating books that is not only full of creative photos, it also guides you by giving you the paint color names and some great combinations, which makes it easy for you to replicate.
Though it has a modern section, I would of liked to see a little more.
View in iTunes
$9.99

Category: Lifestyle & Home
Published: Oct 04, 2011
Publisher: Hearst
Seller: Sterling Publishing Company
Print Length: 288 Pages
Language: English