The Moon Coin
Book One: A Moon Realm Novel
Richard Due & Carolyn Arcabascio
This book can be downloaded and read in iBooks on your Mac or iOS device.
Description
"Tales, unlike stories, never lie. You see, a tale is an account of things in their due order, often divulged secretly, or as gossip. Would you like to hear one?" —Lord Autumn

Uncle Ebb was so good at telling his tales of the Moon Realm that sometimes it sounded like he'd been there himself.

As children, Lily and Jasper listened raptly to his bedtime tales of a place where nine moons swirled around one another, each inhabited by strange and wondrous beings: magical lunamancers; undersea merfolk; wise birds; winged dragons; and Lily's favorite, the heroic, leonine Rinn.

There was only one rule: don't tell a soul.

But now, years later, Uncle Ebb is missing. Lily has learned the secret behind the tales, and soon Jasper will too. But there's one big problem. You see, something terrible has happened in the Moon Realm. . . .

Featuring twenty-two stunning full-color illustrations by Carolyn Arcabascio. Volume One of the fantasy adventure series The Moon Realm.
Screenshots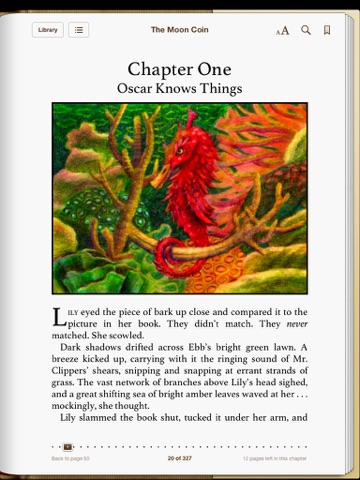 Customer Reviews
action-packed fantasy adventure
The Moon Coin kicks off what looks to be a fun, exciting, well-thought-out new series. The writing is engaging throughout and the characters appealing. The pacing is nicely balanced between action and description. Since it's a world-building novel, it needs to introduce many characters and essentially a brand-new cosmos, but it succeeds in keeping the plot cranking at the same time. The book ends with a major character potentially in peril, so let's see Book 2 soon!
Couldn't Put It Down
In spite of the fact that I am older than the target age for this novel, I adored it. The settings and characters are intriguing and beautifully described, the characters worm their way into your heart, and the mystery of it all grabs you and insists that you hang around to see it unravel. At a certain point, I found that I simply could not stop reading. In fact, on my first read (yes, I've already read it more than once!) I only stopped when my eyes were burning with exhaustion and the words were beginning to blur.

The only thing I could possibly dislike about this brilliant book is that I can't yet purchase the sequel! This is clearly a story crafted with great passion and care. A must-have for any fan of epic fantasy or epic-ness in general.
Loved it
I received this book as a Christmas present and was very pleasantly surprised by how much I enjoyed it. The world is cleverly crafted and the characters are very likable. The story pulled me in and immediately after reading the first book I had to buy the second and am now eagerly awaiting the third. Very well written and so much fun to read!
View in iTunes
Free

Category:

Children's Fiction

Published:

Aug 26, 2011

Publisher:

Gibbering Gnome Press

Seller:

Gibbering Gnome Press

Print Length:

304 Pages

Language:

English
More by Richard Due & Carolyn Arcabascio