American Born Chinese
Gene Luen Yang
This book can be downloaded and read in iBooks on your Mac or iOS device.
Description
A tour-de-force by rising indy comics star Gene Yang, American Born Chinese tells the story of three apparently unrelated characters: Jin Wang, who moves to a new neighborhood with his family only to discover that he's the only Chinese-American student at his new school; the powerful Monkey King, subject of one of the oldest and greatest Chinese fables; and Chin-Kee, a personification of the ultimate negative Chinese stereotype, who is ruining his cousin Danny's life with his yearly visits. Their lives and stories come together with an unexpected twist in this action-packed modern fable. American Born Chinese is an amazing ride, all the way up to the astonishing climax.

American Born Chinese is a 2006 National Book Award Finalist for Young People's Literature, the winner of the 2007 Eisner Award for Best Graphic Album: New, an Eisner Award nominee for Best Coloring and a 2007 Bank Street - Best Children's Book of the Year.

This title has Common Core Connections
From Publishers Weekly
Jun 12, 2006 –
As alienated kids go, Jin Wang is fairly run-of-the-mill: he eats lunch by himself in a corner of the schoolyard, gets picked on by bullies and jocks and develops a sweat-inducing crush on a pretty classmate. And, oh, yes, his parents are from Taiwan. This much-anticipated, affecting story about growing up different is more than just the story of a Chinese-American childhood; it's a fable for every kid born into a body and a life they wished they could escape. The fable is filtered through some very specific cultural icons: the much-beloved Monkey King, a figure familiar to Chinese kids the world over, and a buck-toothed amalgamation of racist stereotypes named Chin-Kee. Jin's hopes and humiliations might be mirrored in Chin-Kee's destructive glee or the Monkey King's struggle to come to terms with himself, but each character's expressions and actions are always perfectly familiar. True to its origin as a Web comic, this story's clear, concise lines and expert coloring are deceptively simple yet expressive. Even when Yang slips in an occasional Chinese ideogram or myth, the sentiments he's depicting need no translation. Yang accomplishes the remarkable feat of practicing what he preaches with this book: accept who you are and you'll already have reached out to others.
Screenshots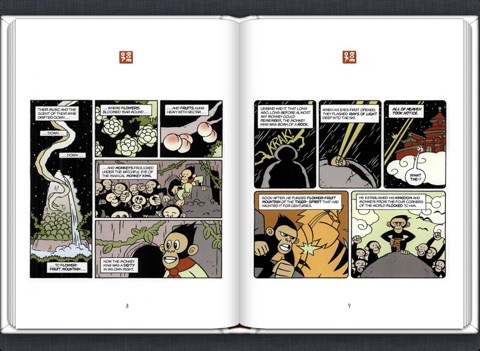 Customer Reviews
Dear God, why?
Uuuuuuuuuuuuuhhhhhhhhhhh..........why?
American Born Chinese
This book was kewl
Kind of generic story, but original delivery
I can see why this is taught at school. I love this author, especially how he wrote the avatar series, but this work isn't as fun to read.
However, the twist ending is by far one of the best endings I've read in a while and worth the reading.
View in iTunes
$7.99

Level: Grades 7-13
Category: Comics & Graphic Novels
Published: Sep 06, 2006
Publisher: First Second
Seller: Macmillan
Print Length: 240 Pages
Language: English