It's a Tiger!
David LaRochelle
This book is available for download with iBooks on your Mac or iOS device. Books can be read with iBooks on your Mac or iOS device.
Description
Kids and parents alike will rejoice in this lively read-aloud picture book, as the main character runs into (and away from) a tiger over and over again as the plot gets sillier and sillier. Perfect for acting out while reading, It's a Tiger! offers just the right amount of excitement without being too scary, and a sweet ending with a bit of a twist.
From Publishers Weekly
Jun 11, 2012 –
Tankard's (Piggy Bunny) artwork adds splash and color to this mock-suspense tale from LaRochelle (The Haunted Hamburger and Other Ghostly Stories), outlining the characters with heavy ink strokes and tinting them with brilliant jewel tones that make them look as if they were painted on glass or film. "Are you ready for a story? Me too," the narrator starts, as a boy in a blue jacket stands in for the narrator/reader "we." The Boy negotiates a series of Indiana Jones style threats (tiptoeing past snakes, swinging across a canyon) only to find a tiger lurking after each page turn which he always escapes in the knick of time. "Good thing we landed someplace soft. A bed of flowers?... A giant orange-and-black pillow? No, we landed on top of... a tiger!" No matter how scary the circumstances, the deadpan narrative voice reassures children that it's just a story, and the tiger's zigzag teeth and soft features imply that he might not be all that dangerous. The repetitive structure, action, frights, and surprise ending should make this a popular storytime pick. Ages 2 6. Illustrator's agent: Holly McGhee, Pippin Properties.
Screenshots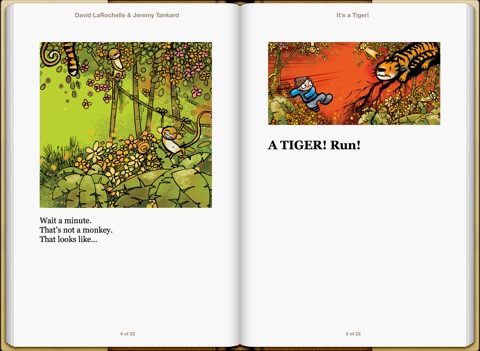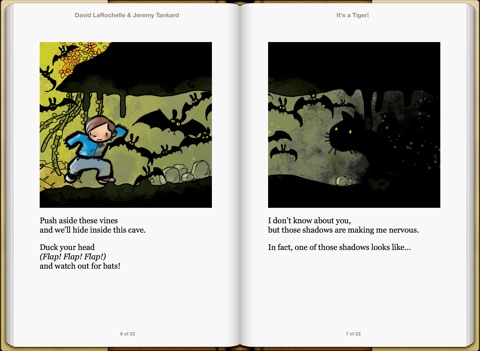 View in iTunes
$9.99

Level: Grades P-K
Category: Animals
Published: Aug 10, 2012
Publisher: Chronicle Books LLC
Seller: Chronicle Books LLC
Print Length: 36 Pages
Language: English