Hollow City
Book 2, Miss Peregrine's Peculiar Children - The Second Novel of Miss Peregrine's Peculiar Children
Ransom Riggs
This book can be downloaded and read in iBooks on your Mac or iOS device.
Description
Read the sequel to the New York Times #1 best-selling book. The movie adaptation of Miss Peregrine's Home for Peculiar Children is now a major motion picture from visionary director Tim Burton, staring Eva Green, Asa Butterfield, Ella Purnell, Samual L. Jackson, and Judi Dench.

Bonus features:
• Sneak preview of the third Peculiar Children novel
• Exclusive Q&A with Ransom Riggs
• Never-before-seen peculiar photography

Like its predecessor, this second novel in the Peculiar Children series blends thrilling fantasy with vintage photography to create a one-of-a-kind reading experience.

September 3, 1940. Ten peculiar children flee an army of deadly monsters. And only one person can help them—but she's trapped in the body of a bird. The extraordinary journey that began in Miss Peregrine's Home for Peculiar Children continues as Jacob Portman and his newfound friends journey to London, the peculiar capital of the world. There, they hope to find a cure for their beloved headmistress, Miss Peregrine. But in this war-torn city, hideous surprises lurk around every corner. And before Jacob can deliver the peculiar children to safety, he must make an important decision about his love for Emma Bloom.
From Publishers Weekly
Jan 27, 2014 –
In this sequel to the bestselling Miss Peregrine's Home for Peculiar Children, young Jacob Portman, having discovered his ability to sense the monstrous wights and hollowgasts that are attempting to capture or kill Peculiars, has narrowly escaped with them and their injured leader, the birdlike "ymbryne," Miss Peregrine. The children must travel cross-country and through time loops, dodging monsters all the way, to Blitz-era London where, rumor has it that the last free ymbryne, Miss Wren, is hiding. En route, they meet talking animals, helpful Romany, and other Peculiars with odd talents: "The suitcase jiggled.... Its latches popped, and very slowly, the case began to open. A pair of white eyes peeped out at the crowd, and then the case opened a little more to reveal a face that of an adult man... who had somehow folded himself into a suitcase no larger than my torso." Riggs's use of grotesque, unsettling, and sometimes lightly retouched photographs is just as successful in this outing, and while the plot occasionally feels forced to fit the photographs, it will easily please the previous book's numerous fans. Ages 14 up.
Screenshots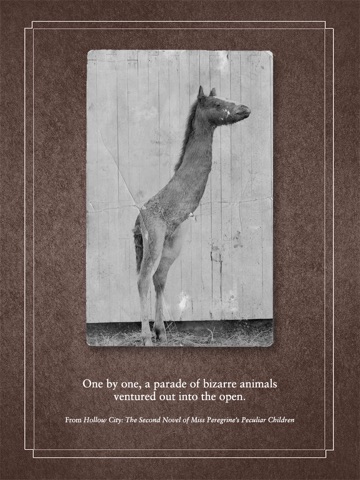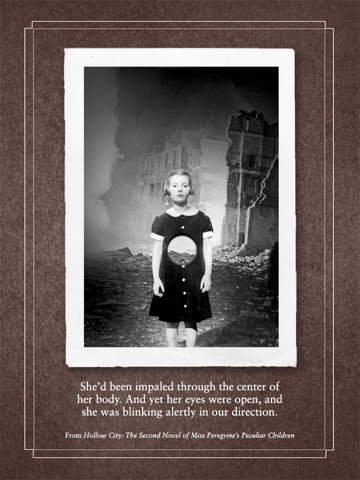 Customer Reviews
Anxious
I went into Barnes & Noble one day and just picked up the first book, randomly, and immediately fell in love. The aestheticity of the photographs is incredible and helps to blossom a fantastic imagination in your head. I'm looking forward to this sequel to see what Riggs has in store for us all this round.
Excited and anxious
I can't wait for Hollow City. I fell absolutely in love with Ms.Peregrine's Home for Peculiar Children. I'm excited to see how the children and Jacob have turned out.
Loved the first one
I loved the first one And can't wait for pt 2
Other Books in This Series
View in iTunes
$9.99

Category: Fantasy
Published: Jan 14, 2014
Publisher: Quirk Books
Seller: Penguin Random House LLC
Print Length: 416 Pages
Language: English
Series: Book 2, Miss Peregrine's Peculiar Children