Introduction to the Sustainability Street Approach
Frank Fitzgerald-Ryan and Others
This book is available for download with iBooks on your Mac or iOS device. Multi-touch books can be read with iBooks on your Mac or iOS device. Books with interactive features may work best on an iOS device. iBooks on your Mac requires OS X 10.9 or later.
Description
The central idea of the Sustainability Street Approach  ... is that we come together as local communities, learn a little about ecological sustainability and then we do what we can to encourage, assist or 'teach' other individuals or other communities to join the groundswell. Above all, the basic goal of the Sustainability Street Approach, is that 'sustainability' is a lifetime journey.  It is a journey that will become easier and easier while becoming more and more fulfilling.

This book aims to be a primer in ecologically sustainable living for individuals, households and best of all, local communities working together.  It is an amalgam of science, the state of the global environment, threads of sociology and psychology, humour, as well as tips and information.  However, the main aim of this Approach is to trust Common Sense!  Common Sense is the major ingredient of living sustainably.  It is the big message.  These days, we all have a fair idea about what pollution and waste look like. As Einstein once said, "First thought - best thought!"  So, your first instinct about the sustainable option will more often than not be the right one.  Indeed, research shows that 30, maybe even up to 45% improvement in ecologically sustainable behaviour and outcomes can be achieved through basic 'good eco-housekeeping'.  Basic common sense.

So while this book does provide 'a starter's pack' of information including: tips for today, ways to build better communities and how to run interesting meetings, the Sustainability Street Approach (SSA) is essentially about figuring out the overarching values of life's precious Intangibles that we can use to craft the future.  Life's Intangibles are the very juice, subtleties and meaning of life.  Like the deep and authentic force behind the joy that makes you 'well up' as you hold your new baby.  Things that can never be bought or sold but are the most valuable in our lives: honesty, friendship, meaning, laughter.  The SSA is a petrie dish for the Intangibles.  The Intangibles are the truest expression of your heart and any decision, choice or tumagoolazoola that springs from your deepest values, can Intangibles be wrong.  The SSA facilitates an abundant, prosperous and ecologically sustainable future ... forever.  If we want it! 

The Shortcut To Sustainability Street:    DIY!  … or ...  DIO!
DIY - Do It Yourself, infers that the task at hand is achievable without the input of 'the expert'.  The Sustainability Street Approach is beyond DIY.  It is DIO - Do It Ourselves, as with the idea behind DIY, is replete with achievability because it is defined by and energised according its composition and the unique ideas, passions and experience of the particular community.  Like the DIY idea, the SSA is achievable but you don't have to travel solo.  DIO - 'Ourselves' plural, provides not only company but more ideas, more energy and more people to bring cakes to meetings. 

DIO is about choosing our own adventure, making our own decisions and charting our own way to a sustainable future.  Charles Lane, Director of Community Strengthening for the Victorian Government said that the invaluable thing about Sustainability Street is that it calls on people to make decisions and forge their own direction. 

Similarly, respected Civil Rights Leader, Malcolm X once said, "I for one believe that if you give people a thorough understanding of what confronts them and the basic causes that produce it, they'll create their own program and when the people create a program, you get action."
Over the years, various Sustainability Street Villages have used terms like self directed and collective self management.  The SSA serves as a 'Blank Canvas' for the passions, ideas and energies of local communities.  One senior Villager once opined that the SSA is at first like having 'trainer wheels'.  It's true!  It is invaluable for getting started and then, within no time you are pedalling excitedly and turning whichever way you choose.
Screenshots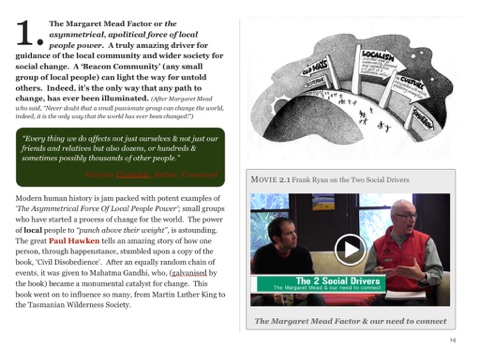 View in iTunes
$8.99

Category:

Lifestyle & Home

Published:

Jul 15, 2014

Publisher:

Sustainability Street Institute

Seller:

Sustainability Street Institute

Print Length:

66 Pages

Language:

English

Version:

1.0