It Worked for Me (Enhanced Edition)
In Life and Leadership
Colin Powell
This book can be downloaded and read in iBooks on your Mac or iOS device.
Description
In It Worked for Me the enhanced e-book edition you will find twelve exclusive videos featuring first-hand leadership advice and amusing anecdotes from the life of General Colin Powell. Readers also get access to photographs found only in this edition.

It Worked for Me is filled with vivid experiences and lessons learned that have shaped the legendary public service career of the four-star general and former Secretary of State Colin Powell. At its heart are Powell's "Thirteen Rules"—notes he gathered over the years and that now form the basis of his leadership presentations given throughout the world. Powell's short but sweet rules—among them, "Get mad, then get over it" and "Share credit"—are illustrated by revealing personal stories that introduce and expand upon his principles for effective leadership: conviction, hard work, and, above all, respect for others. In work and in life, Powell writes, "it's about how we touch and are touched by the people we meet. It's all about the people."

A natural storyteller, Powell offers warm and engaging parables with wise advice on succeeding in the workplace and beyond. "Trust your people," he counsels as he delegates presidential briefing responsibilities to two junior State Department desk officers. "Do your best—someone is watching," he advises those just starting out, recalling his own teenage summer job mopping floors in a soda-bottling factory.

Powell combines the insights he has gained serving in the top ranks of the military and in four presidential administrations with the lessons he's learned from his immigrant-family upbringing in the Bronx, his training in the ROTC, and his growth as an Army officer. The result is a powerful portrait of a leader who is reflective, self-effacing, and grateful for the contributions of everyone he works with.

Colin Powell's It Worked for Me is bound to inspire, move, and surprise readers. Thoughtful and revealing, it is a brilliant and original blueprint for leadership.

Please note that due to the large file size of these special features this enhanced e-book may take longer to download then a standard e-book.
From Publishers Weekly
Apr 09, 2012 –
Hard work, straight talk, respect for others, and thoughtful analysis except during the Iraq War worked for the former secretary of state and chairman of the Joint Chiefs of Staff, according to this plainspoken memoir cum leadership manifesto. Powell (My American Journey) distills aphoristic principles Get mad, then get over it out of anecdotes from adolescent summer jobs, military commands, diplomatic furors, and celebrity encounters. Shamelessly targeting the business audiences he entertains in public-speaking gigs I can pitch my speech at whatever level of sophistication the client wants, he assures readers his executive s-eye view of leadership includes tips on hiring and firing subordinates, and soldierly metaphors for corporate strategizing. Unfortunately, leadership insights desert Powell in his substantial but inadequate account of the Iraq War. Though he frankly admits the war was based on false intelligence of Iraqi WMDs that he unwittingly deployed in his infamous U.N. speech justifying the invasion (a blot on his career), he offers no answers to questions surrounding Bush administration policy making. There s much inspirational sense drawn from Powell s matchless range of managerial and political experiences but also a frustrating reticence on the great leadership crisis of his time.
Screenshots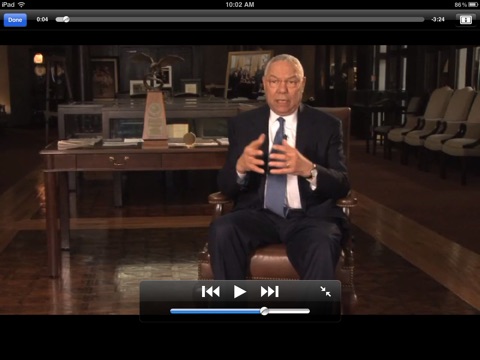 Customer Reviews
Another great inspirational story!
As expected, a very personal, very well written book by a truly good man and personification of a great leader.
A must read for every leader
This was an excellent book on true leadership! It was easy to read and is packed with nuggets of brilliance! This book is worth it's weight in gold.
Thank you for writing this book
Probably the best book I have ever read on leadership. I am a
Ready employing a number of Gen. Powell's suggestions/mantras. I just wish he had the belly for presidential politics.
View in iTunes
$14.99

Category: Biographies & Memoirs
Published: May 22, 2012
Publisher: Harper
Seller: HarperCollins
Print Length: 304 Pages
Language: English