L' Empereur Nicolas II. et les Juifs
essais sur la révolution russe dans ses rapports avec l'activité universelle du Judaisme contemporain
Aleksander Netchvolodow
This book can be downloaded and read in iBooks on your Mac or iOS device.
Description
S'il m'est permis d'adresser une prière à mes lecteurs, voici en quoi elle consistera : qu'ils conservent le présent ouvrage et le transmettent en héritage à leurs enfants, en leur demandant de le léguer également à leurs descendants. Je n'ai pas la prétention de me considérer comme un prophète, mais je suis profondément pénétré de l'opinion exposée ici, qu'avant quatre générations il n'y aura absolument plus une seule jonction dans l'État, sans en excepter les plus élevées, qui ne soient en la possession des Juifs. A l'heure actuelle, seule parmi tous les États d'Europe, la Russie oppose encore de la résistance à la reconnaissance officielle de l'invasion des étrangers. C'est le dernier rempart contre lequel les Juifs ont édifié leur dernière tranchée et à en juger d'après la marche des affaires, la capitulation de la Russie n'est qu'une question de temps.
Dans cet énorme Empire le Judaïsme trouvera ce 'point d'appui d'Archimède' qui lui permettra d'arracher définitivement de ses charnières tout le monde de l'Europe Occidentale.
L'esprit d'intrigue élastique des Juifs plongera la Russie dans une révolution telle, que le monde, vraisemblablement, n'en a pas encore vu de semblable. En Russie, le Judaïsme occupe une situation telle, qu'il doit encore redouter de s'en voir rejeter. Quand il jètera la Russie à terre, il n'aura plus à craindre d'atteintes de personne ; quand il prendra possession, en Russie, de toutes les fonctions d'État, de même que chez nous, alors les Juifs entreprendront officiellement la destruction de la société de l'Europe Occidentale, et cette dernière heure de l'Europe condamnée sonnera au plus tard dans 100-150 ans, vu qu'actuellement les événements se développent plus vite qu'aux siècles précédents.
Ce que la Russie doit attendre des Juifs - c'est bien clair.
Il est un tenant des thèses du judéo-bolchévisme et de la judéo-maçonnerie qu'il développe dans son livre L'Empereur Nicolas II et les Juifs. 
Screenshots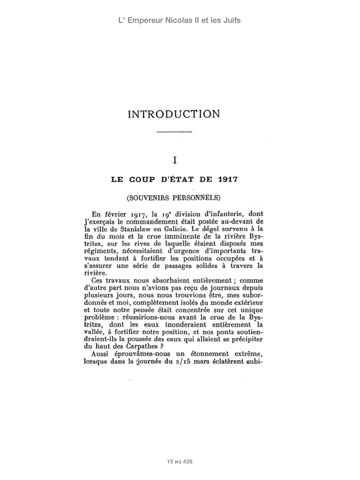 View in iTunes
$9.99

Category:

Politics & Current Events

Published:

Dec 30, 2014

Publisher:

Slavamax BVBA

Seller:

Valeriy Petrenko

Print Length:

409 Pages

Language:

French