Le Petit Chaperon Rouge (La lecture à voix haute)
Les Frères Grimm
This book can be downloaded and read in iBooks on your Mac or iOS device.
Description
Très belle version classique interactive du "Petit Chaperon Rouge" avec une fin heureuse. 

Cet e-livre peut être lu à voix haute grâce aux mots mis en évidence et ceci dans une atmosphère agréable, procurée par la musique de fond.

Conseils de l'interactivité : 

Deuxième page : Déplacer Le Petit Chaperon Rouge 
Troisième page : Touchez 
Quatrième page: Appuyer à fureter 
Cinquième page: Déplacer le Loup 
Sixième page: Voir une salutation 
Page septième: Voir la maison de grand-mère 
Huitième de page: Touchez à grogner 
Page Neuvième: Touchez un oiseau ou Déplacer Le Petit Chaperon Rouge 
Dixième page: Touchez pour planter une fleur 
Page Onzième: Frappez à la porte 
Page Douzième: Miam 
Page Quatorzième: Touchez pour voir de grandes oreilles 
Page Quinzième: Touchez à ronfler 
Page Seizième: Tirer au fusil 
Page dix-septième: Une touche de calme 
Page dix-neuvième: Touchez pour Regardée avec des yeux si méchants 
Vingtième page: Aide d'un lapin courageux 
Vingt première page: Touchez 
Vingt deuxième page: Touchez.

_______
English: Beautiful classical interactive version of "Little Red-Riding-Hood" with a Happy Ending in French. 

This e-book can be read aloud with words highlighted along with pleasant atmosphere of background music.
Screenshots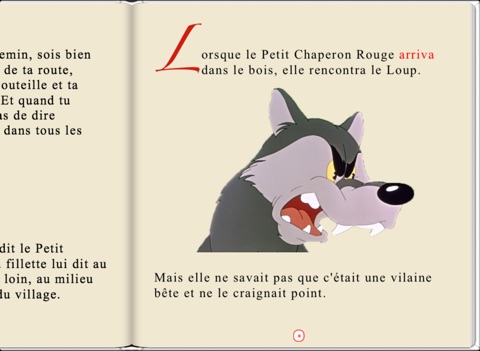 View in iTunes
$2.99

Category:

Arts & Entertainment

Published:

Mar 30, 2012

Publisher:

Valeriy Petrenko

Seller:

Valeriy Petrenko

Print Length:

24 Pages

Language:

French