Lean On and Lead
Mothering and Work in the 21st Century Economy
Shay Chan Hodges
This book is available for download with iBooks on your Mac or iOS device. Multi-touch books can be read with iBooks on your Mac or iOS device. Books with interactive features may work best on an iOS device. iBooks on your Mac requires OS X 10.9 or later.
Description
Lean On and Lead, Mothering and Work in the 21st Century Economy, is a multi-layered, interactive, and robust collection of first person narratives that provide a deep and personal portrayal of what it takes to significantly participate in the 21st century economy while raising children.

By presenting over thirty candid and compelling interviews with working women, mothers, and fathers, and including embedded interactive widgets, Lean On and Lead addresses the personal, economic, and cultural issues that impact parents. The interactive ebook presents perspectives from women and parents working in a variety of fields, and includes six interviews with fathers. Interviewees include medical and health care professionals, media executives, educators from middle school through college, an attorney, a software CEO, a transit worker, a venture capitalist, engineers, an inventor, women in the biotech industry, a vice president in renewable energy, the managing director of a social venture startup, a union organizer, a campus abstinence advocate, a student/entrepreneur, a U.S. Senator, and other elected officials.

This second update to Lean On and Lead (1.2) introduces our Family-Centered Design℠ framework. This is just what it sounds like -- a conceptual framework for designing as much of our society and economy as possible around the real needs of families such as those whose stories are told in this book. We are working to apply Family-Centered Design thinking to the reshaping of institutions, companies, services, products, infrastructures and education to fit the needs of the family rather than the other way around. Lean On and Lead (1.2) is a crucial, interactive tool that will engage readers in this process.

Interview Excerpts:

"I have been very fortunate. I didn't ask about maternity benefits or part-time work or if any other accommodations might be possible when I first got hired. I was twenty-eight years old and I knew that I wanted to have children in the not-too-distant future, but it wasn't something that I asked about. I just didn't really think about child care when I first became a lawyer. Also, at some level, it may have been in the back of my mind that this would not be something that would be very helpful to bring up in a job interview." -- Rebecca, Attorney

"Now that my husband and I have been at Palo Alto Software for over ten years, I credit the geography of where we live and work for supporting the kind of family-friendly work culture that has become very important to us. For example, because we live in a small community, we have no commute issues. Our office is five minutes from our home. If we wanted to bike to work, it would take another one or two minutes. The public school is a twelve-minute drive away, and the swim team meets at the YMCA, which is only a few blocks from school." -- Sabrina, CEO, Software Company

"For three years, child care expenses had me constantly evaluating why I had even returned to work. Half of the amount I made working part-time as an interpreter and an in-home child education specialist went to child care. And unfortunately, we needed the measly sum that was left over. But I also continued to work because I loved my jobs and I didn't want to disconnect from work sources while I was waiting for my son to be old enough to attend public school. Now that he is in kindergarten, I am beginning to look at the option of working toward becoming a speech pathologist (finally, at 42!)" -- Karen, Medical Interpreter

Stories are complemented by more than one hundred interactive widgets and links, including slideshows, interactive graphics, charts, video interviews, current economic studies, and information on ongoing legislation.

Follow Shay on Twitter: @LeanOnAndLead

www.leanonandlead.com
What's New in Version 1.2
New interviews in "Reaping the Benefits": Celeste Kirkland, Transit Worker New chapter "Sustainable Balance," with new interviews: Cassandra Hough, Advisor to Staff, Advocacy Nonprofit Cheryl Coney, Labor Organizing Consultant Shanah Trevanna, Founder, Sustainability Consulting Firm Diana Rothschild, Founder, Coworking Childcare Innovation Space Beth Fukumoto, Hawaii State Representative Lloyd Nebres, Retired Instructor, Church Office Administrator Various widgets have been updated and modified, particularly those related to the 2014 elections, sick leave and minimum wage laws, brogrammer culture, new data related to gender diversity in the tech and entertainment industries, as well as academia, updated VC numbers and funding of start-ups, and data related to Title IX and students with children. A great deal of additional data is included in new widgets in the new interviews as well.
Screenshots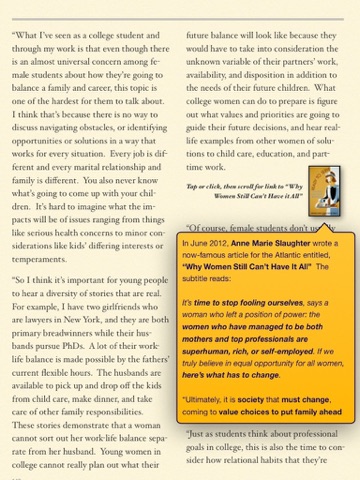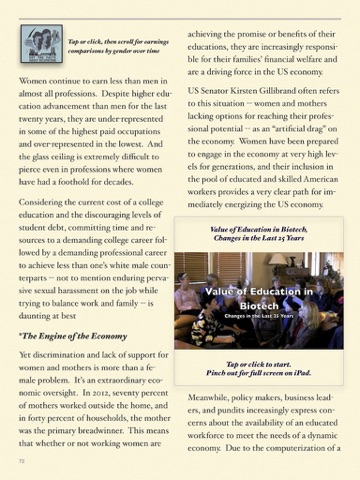 Customer Reviews
A Valuable Corrective
I suppose one could consider me a biased reviewer, as I was one of Ms. Chan-Hodges' small army of volunteers reading her work, as she progressed on it; but I wouldn't have been so enthusiastic a volunteer had I not considered her enterprise profoundly worthy to begin with!

Shay's book is, to my mind, a valuable corrective to mainstream perceptions of the critical work of parents—particularly moms—outside of their regular work-lives and careers.

One such perception is that the work of parenting and nurturing children and families somehow just gets done on its own, by some sort of organic process. As any parent knows, the reality is far from that — it takes work, often hard work, and parenting ends up being a full-time job on its own terms.

The stories that Shay has gathered in this eBook are wonderfully illustrative of this reality. The voices are evocative, strong. They reflect much of what we who are parents know in our very bones and sinews... but that we need to hear from other parents as well. Their failures, their successes, and everything in between.

In a richly collective understanding of what it takes to successfully raise children and families in 21st century America lies the answer, I think, to much of what ails American society these days.

Shay's book is a marvelous assay in this direction, and will doubtless be an inspiration to anyone who reads it closely, and critically. It certainly was that, to this reader, and this parent. That it comes in the form of an eBook is an extraordinary bonus, lending the stories texture and context, perspective and depth.
Answers to a Harvard professor's question
Lean On and Lead is a "must read" for parents balancing the needs of their children and the demands of their work because it tells real stories and offers real solutions. In doing so it also answers a question posed by Harvard economic professor Greg Manikew in his reportedly popular blog.

On Nov 11, 2013, Professor Manikew criticized the ACA mandatory maternity coverage provision by posting this questionon on his blog: "People who drive a new Porsche pay more for car insurance than those who drive an old Chevy. We consider that fair because which car you drive is a choice. Why isn't having children viewed in the same way? I don't know the answer to these questions."

Lean On and Lead offers answers to Professor Manikew's questions in a well reasoned and skillfully written interactive format. The premise of the book is that a robust and healthy society needs the talents of all its citizens, including mothers and fathers who also must provide care for their children because society will need the talents of those children in the future. Lean On and Lead includes numerous stories told by mothers and fathers from many walks of life and several different countries describing who they leaned on and how they managed child care in order to lead in their chosen fields . (Several members of the U.S. Congress are among those interviewed.) All the stories are thought-provoking, but I was particulary struck by mothers who had children when they were teenagers and credit their children with putting them on the path to a productive adult life.

The book also includes links to statistics and studies addressing the issues of work and child care and links that allow the reader to contribute to the conversation. Don't miss it!!
Powerful and honest
As a new mother struggling to balance my career with the needs of my daughter, I found this book incredibly interesting and insightful.

The author interviewed dozens of working mothers (and fathers) about their experiences in an economy that does not always support the needs of families and children. Their stories are fascinating to read.

From the tech executive who had to use her breast pump in the car before a job interview as a new mother, to the single father who works 60 hour weeks to provide for his three children, the profiles in the book are surprisingly candid and personal. They give you a window into the lives of real families as they struggle to balance life and work in today's economy.

Highly recommended.
View in iTunes
$19.99

Level:

Grades 9-17

Category:

Business & Personal Finance

Published:

Dec 16, 2014

Publisher:

Read/Write Community, LLC

Seller:

Read/Write Community, LLC

Print Length:

210 Pages

Language:

English

Version:

1.2