Make Your Own Rules Diet
Tara Stiles
This book can be downloaded and read in iBooks on your Mac or iOS device.
Description
The diet makers and nutritionists who have been laying out the optimal health rules over the years have gotten it wrong, and we've paid the price big-time. We are sicker than ever, even with the calorie-cutting strategies and fatigue-inducing workouts that have taken over our lives. Sadly, we continue to let outside "experts" control us by believing whoever makes the greatest promise and buying the products they provide. Until now!

In Make Your Own Rules Diet, Tara Stiles introduces you to the most knowledgeable expert on your health: YOU. She throws out the accepted "rules" and helps you tune in to yourself, so you can figure out what truly makes you feel good. The moment you make this shift is the moment you take back your power and begin to make choices that actually support you.

In these pages, Tara shares her personal story of drifting dangerously away from her own intuition and how it threw her off balance. Then she lays out the tools she used to get back on track—yoga, meditation, and healthy eating—and teaches you easy ways to bring them into your daily routine, so you can cultivate a healthy, strong body; a calm, focused mind; and a spectacularly powerful life.

After going through basic guidelines on writing your own rulebook, Tara give you tips, techniques, and practices, including:
A step-by-step goal-setting process so you can figure out where you want to focusIllustrated yoga routines designed to up energy levels, curb cravings, and enhance peaceSimple breathing and meditation practices to soothe the soul50 easy, delicious, plant-based recipes that can be made in minutesA 7-day kick-start program and a 30-day plan to launch your healthy, happy, radiant transformation
And remember, Tara's just your guide; you're the expert. But she'll be by your side to keep you safe, offer support, and give you a little love when you need it. So go inside and get intuitive. Be excited and inspired. And remember to have a ton of fun. Because being you should be fun!
Screenshots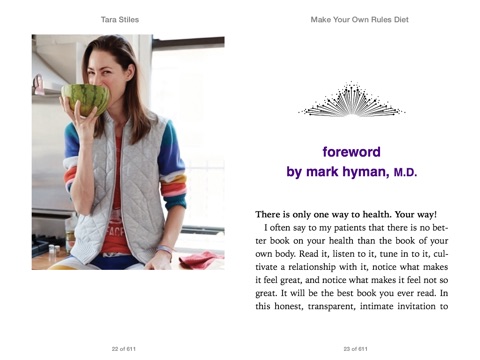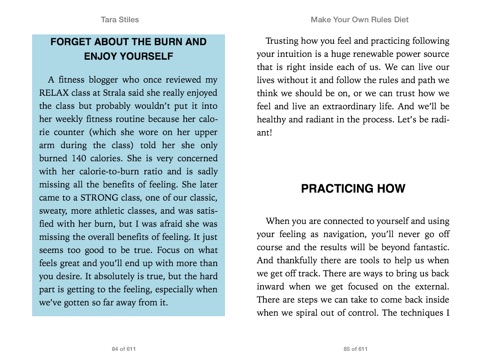 Customer Reviews
Too repetitive
The gist of the book is that you are unique and fine the way you are...and once you figure that out you can find out what you need to do to get the results you want.
I got 150 pages into it because those 150 pages found different ways to tell me that a) diets don't work because you get discouraged and then give up and b) you won't get anywhere until you understand yourself.
May come in handy for someone who doesn't know that, but I do and didn't feel like it needed to be repeated for at least 150 pages. At least I got the download for free from Starbucks.
Ok, not great
This book is just ok. Was expecting a bit more. Receipts are good. Yoga is basic. Easy to see why the author is so overly skinny.
Love it
This book is so awesome I am sure that you're going to like it this book is about losing weight without torturing yourself or using any harmful products that would kill you at the end I love this book because it help me with so many pounds and it's so easy you just have to read and follow what they are telling you to do and then in less than a year you'll be fit again I love being fit I hope that you do too I really recommend this book for anyone who is probably not caring about their weight right now it is awesome
View in iTunes
$11.99

Category:

Health & Fitness

Published:

Nov 11, 2014

Publisher:

Hay House

Seller:

Hay House, Inc.

Print Length:

312 Pages

Language:

English