Marcel the Shell with Shoes On (Enhanced Edition)
Book 1, Marcel the Shell - Things About Me
Jenny Slate & Dean Fleischer-Camp
This book can be downloaded and read in iBooks on your Mac or iOS device.
Description
View our feature on Jenny Slate and Dean Fleischer-Camp's Marcel the Shell With Shoes On.

Millions of people have fallen in love with Marcel. Now the tiny shell with shoes and a big heart is transitioning from online sensation to classic picture book character, and readers can learn more about this adorable creature and his wonderfully peculiar world.

From wearing a lentil as a hat to hang-gliding on a Dorito, Marcel is able to find magic in the everyday. He may be small, but he knows he has a lot of good qualities. He may not be able to lift anything by himself, but when he needs help, he calls upon his family. He may never be able own a real dog . . . but he has a pretty awesome imagination.

From Publishers Weekly
Oct 03, 2011 –
Like the popular Internet video it s based on, this picture book stars a pink-shod, one-eyed snail shell who is happy to discuss his habits, preferences, and inner life, while revealing a life that s both miniature and writ large. Slate, an actress, and Fleischer-Camp, a director, wisely expand Marcel s world beyond the three-and-half minutes of their video, though they hang onto some of its most beloved lines. The artwork trades the jerky animation of the original for Lind s thick, luminous oil paintings, which provide a fittingly off-kilter realism; when readers first get a (very) close-up view of Marcel through a magnifying glass, his mouth agape and single goggle-eye gleaming, it s clear that this is not your average protagonist. In deadpan narration, Marcel shows readers his home ( This is my Breadroom. It s a Bedroom. But I sleep in a piece of bread ) and nearby attractions like the aquarium (a goldfish bowl) and a toy-filled amusement park. True, you don t get to hear Marcel s singular squeaky/scratchy voice, but the hip, young parents buying (and perhaps most excited about) this adaptation will be itching to try out their impressions. Ages 5 up.
Screenshots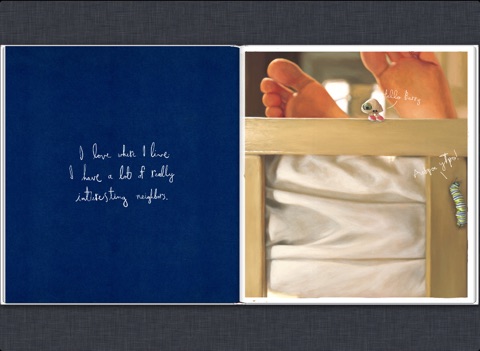 Customer Reviews
Absolutely Genius & Too Adorable!
I really can't imagine how the idea came about; it is borderline Genius & Crazy! My only regret, is that I didn't come up with it or that I wouldn't have...Genius! And it's a shame that I don't have kids but I can't wait to share it with my Friends & Family's that do, as I need an excuse to read it again!

JennyMc
Unexpected
My best friend and I love Marcel. We pretty much have memorized the first video. So when I came across this book a week before her birthday, I had to buy it. The whole time I was waiting for it to arrive( they didn't sell it in my local bookstores) I kept thinking. This is probably going to be so stupid. But when I read it. I laughed the whole time. It was nothing like I expected. I could hear Marcel saying all of those things and when I gave to my friend we both laughed until we cried. For Marcel lovers, it's a must have.
Should be longer for 9.99 but...
It is cute.
Other Books in This Series
View in iTunes
$10.99

Category: Fiction
Published: Nov 01, 2011
Publisher: Penguin Young Readers Group
Seller: Penguin Group (USA) Inc.
Print Length: 42 Pages
Language: English
Series: Book 1, Marcel the Shell
More by Jenny Slate & Dean Fleischer-Camp