Mostly Monsterly
Tammi Sauer
This book can be downloaded and read in iBooks on your Mac or iOS device.
Description
Bernadette might seem like an ordinary monster, but sometimes she likes to do some very unmonsterlike things, like pick flowers. And pet kittens. And bake.

When the time comes for Bernadette to go to Monster Academy, she's just a teensy bit nervous. Her classmates just don't understand her. They'd rather uproot trees than sing friendship songs. And they prefer fried snail goo to Bernadette's homemade cupcakes with sprinkles. Can Bernadette find a way to make friends at school and still be herself?
From Publishers Weekly
Jul 05, 2010 –
The familiar saga of a child who doesn't fit the norm is given a twist in this story about monster Bernadette, who looks the part and "caused mayhem of all kinds," but who also has a penchant for flowers, kittens, and group hugs. Bernadette's classmates are horrified by her cutesy tendencies even rejecting her offering of cupcakes because they'd rather have bug parts or fried snail goo. By book's end, Bernadette conforms to expectations, while indulging her giving spirit, by making each classmate a gross card ("eeny, meeny, miney, mo. this clipping's from my pinky toe!"). Despite her ingenuity, readers may be more drawn to her outlandish classmates. Ages 4 8.
Screenshots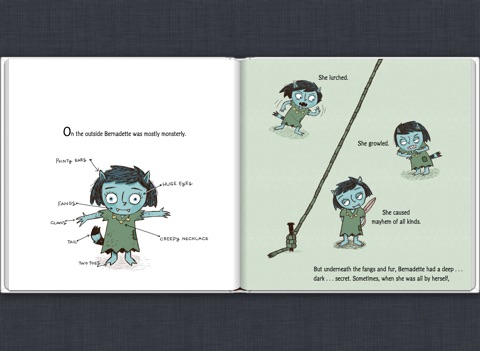 View in iTunes
$10.99

Level: Grades P-3
Category: Social Issues
Published: Aug 09, 2011
Publisher: Simon & Schuster/Paula Wiseman Books
Seller: Simon and Schuster Digital Sales Inc.
Print Length: 40 Pages
Language: English