My Friend Dahmer
Derf Backderf
This book can be downloaded and read in iBooks on your Mac or iOS device.
Description
The bone-chilling graphic novel that inspired the major motion picture starring Ross Lynch as Jeffrey Dahmer.
 
NATIONAL BESTSELLER
2013 ALA/YALSA Alex Award
2014 Revelation Award at Angoulême
2015 ALA/YALSA Alex Award (Excellence in Narrative Nonfiction)
 
Named a BEST OF 2012 by Time, The Village Voice, A.V. Club, comiXology, Boing Boing, Publishers Weekly, MTV Geek, and more!
 
You only think you know this story. In 1991, Jeffrey Dahmer—the most notorious serial killer since Jack the Ripper—seared himself into the American consciousness. To the public, Dahmer was a monster who committed unthinkable atrocities. To Derf Backderf, "Jeff" was a much more complex figure: a high school friend with whom he had shared classrooms, hallways, and car rides. In My Friend Dahmer, a haunting and original graphic novel, writer-artist Backderf creates a surprisingly sympathetic portrait of a disturbed young man struggling against the morbid urges emanating from the deep recesses of his psyche—a shy kid, a teenage alcoholic, and a goofball who never quite fit in with his classmates. With profound insight, what emerges is a Jeffrey Dahmer that few ever really knew, and one readers will never forget.
 
Also available by Derf Backderf, Trashed.

Find teaching guides for My Friend Dahmer and other titles at abramsbooks.com/resources.
From Publishers Weekly
Jan 02, 2012 –
Readers of Derf Backderf s the City strip in various alt-weeklies will immediately recognize his visual style (flattened landscapes and blocky characters who look uncomfortable in their own skin), but not the content in this visceral, ambitious new graphic novel. Instead of the City s surreal, satirical ennui, Backderf explores a hard-to-believe autobiographical story. During the 1970s in Ohio, he attended high school with and befriended Jeffrey Dahmer, the loneliest kid I d ever met. Backderf and his social misfit crew drift in and out of Dahmer s story, which the author pieced together from memories and more recent research. It s a barbed-wire portrait of a devil-minded teen with divorcing and neglectful parents. He slices up roadkill to see what it looks like, gets attention in school by doing imitations of cerebral palsy victims, and swims in alcohol to drown out his violent urges. The tone is sympathetic and enraged ( Where were the damn adults? ) while not excusing or making the story unduly fascinating. Backderf s writing is impeccably honest in not exculpating his own misdeeds (the sections about how he and his friends encourage Dahmer s spaz shtick while still excluding him make for brutal reading) and quietly horrifying. A small, dark classic.
Screenshots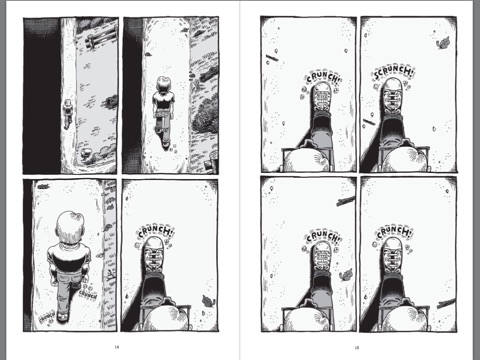 Customer Reviews
Don't judge a book by it's cover.
Preface: I am (was) not a fan of the graphic novel genre. I dismissed them as adult comic books which offerred little literary value.

This was an extremely well written and, of course, magnificently illustrated story. We all know the name Jeffrey Dahmer and his monstrous deeds, but this book's unprecedented perspective gives the reader insight into the formative years of one of America's most ghastly and repulsive characters. Kudos to Derf Backderf on such a great piece of artwork, and thank you for making my horizon a little broader than before.

This book is well worth the money!
Excellent
When I downloaded this I did not expect what I got - I thought "graphic novel" meant written graphically. (Don't laugh!) But what an amazing surprise! Loved reading this but the "graphic" visuals were compelling - I didn't have to visualize in my head- it was all there. I just wish it could have lasted longer. Thank you for sharing your experience - I could totally relate having also been in high school in the late seventies. I highly recommend!
Great Comic!!!!!!
This a great, creepy, thoroughly referenced, and unbelievable but true comic.
View in iTunes
$11.99

Category: Graphic Novels
Published: Mar 05, 2012
Publisher: ABRAMS
Seller: Harry N. Abrams, Inc.
Print Length: 240 Pages
Language: English