My Little Pony: Friendship Is Magic #1
My Little Pony: Friendship Is Magic
Katie Cook & Andy Price
This book can be downloaded and read in Apple Books on your Mac or iOS device.
Description
First issue in a four issue series! This 33 page comic is published in print and digital at the same time! Welcome to Ponyville, home of Twilight Sparkle, Rainbow Dash, Rarity, Fluttershy, Pinkie Pie, Applejack, and all your other favorite Ponies! Something's not right in the town though, as some of the inhabitants are acting very, very strange! It's up to the Mane Six to find the source of the weirdness before it's too late!
Screenshots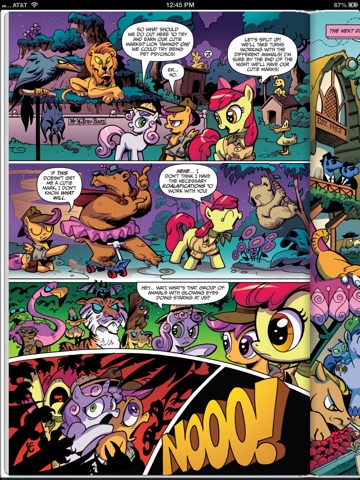 Customer Reviews
yay
Ponies are awesome! I'm guessing this was fan-made. Well, it's still really good!
Not fan made
Completely legit, completely canon, completely awesome
The newly released Comic series!!
This is completely real. It's been posted all over Equestria Daily! I'm glad they have decided to release this on here for those of us who can't make it to the comic shops. That and for those of us who can't find them. THANK YOU!!
Other Books in This Series
View in iTunes
$1.99

Category:

Graphic Novels

Published:

Nov 28, 2012

Publisher:

IDW Publishing

Seller:

Idea and Design Works, LLC

Print Length:

33 Pages

Language:

English

Series:

My Little Pony: Friendship Is Magic