My Little Pony: Friendship is Magic #3
My Little Pony: Friendship Is Magic
Katie Cook & Andy Price
This book can be downloaded and read in Apple Books on your Mac or iOS device.
Description
Third issue! This 27 page comic is published in print and digital at the same time! The Mane 6 enter the heart of the Changeling Kingdom to rescue their friends! Danger lurks everywhere, and each Pony will have to put their best hoof forward if they are to survive the night! Unfortunately that's exactly what the Changeling Queen expects! Will our heroes fall into her trap?
Screenshots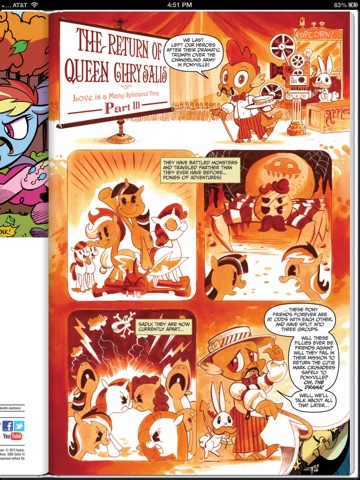 Customer Reviews
Y u no out?
I am giving this one star because it needs to be released now. Once it is out, I will give it five stars and will be repeatedly jamming the space where the sixth star should be. Brohoof! /)
Look above me
Change your comment pony😊
Amazing!!!!!!!!!!!!!
100000000000988888888888777777766666666% good! You have to get it!!!!!!!!!!!!!!!!!!!!! Get it!!!!!!!!!!!!!!!!!!!!!!!!!!!!!!!!!!!
Other Books in This Series
View in iTunes
$1.99

Category:

Graphic Novels

Published:

Feb 06, 2013

Publisher:

IDW Publishing

Seller:

Idea and Design Works, LLC

Print Length:

26 Pages

Language:

English

Series:

My Little Pony: Friendship Is Magic