My Little Pony: Friendship is Magic #7
My Little Pony: Friendship Is Magic
Heather Nuhfer & Amy Mebberson
This book can be downloaded and read in Apple Books on your Mac or iOS device.
Description
The new Nightmare Moon has revealed herself... and captured our stunned Ponies! With time running short for Equestria before a full-scale invasion, the only hope lies with... Spike?! And what role will Princess Luna play?
Screenshots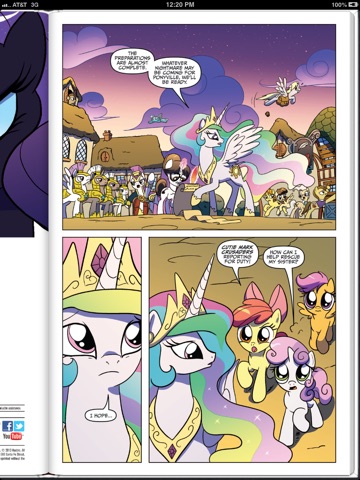 Customer Reviews
Am i the only one
who noticed that published date is odd but still enjoyed reading this epic-awesome comic?
I'm on the edge of my seat!
This is an excellent MLP comic series that keeps me on the edge of my seat! Can't wait for more! And to all the Bronies out there, brohoof! /)
EPIC!!!!
Luna+Mane 6+ Nightmare Moon+Evil Friend+Epic Quest= AWESOME!
Other Books in This Series
View in iTunes
$1.99

Category:

Graphic Novels

Published:

May 16, 2013

Publisher:

IDW Publishing

Seller:

Idea and Design Works, LLC

Print Length:

27 Pages

Language:

English

Series:

My Little Pony: Friendship Is Magic