My Very Big Little World
A SugarLoaf Book (with audio recording)
Peter H. Reynolds
This book can be downloaded and read in Apple Books on your Mac or iOS device.
Description
SugarLoaf is good at many things. But she is best at:

Talking baby talk to her little sister

Waking her dad up in the morning

Painting portraits

Growing big-girl teeth

SugarLoaf's a very little girl with some very big ideas. Come play with her in this eBook with audio!
From Publishers Weekly
Jan 02, 2006 –
Reynolds (The Dot) introduces readers to SugarLoaf, so named because at birth, her dentist mother thought she was "as sweet as sugar" while her baker father believed she "felt as warm as a freshly baked loaf of bread." SugarLoaf looks more like a teddy bear than a human girl, yet she leads a recognizably cozy domestic life with her parents, her baby sister, SugarLump ("I used to talk baby talk, so I understand her"), and her older, gearhead brother, Spoke, plus a visiting grandmother with a fondness for orange and an aunt who owns her own construction company. Reynolds blithely skips among the highlights of SugarLoaf's life. Youngsters learn, in what seems to be no particular order, that SugarLoaf gets up early like her Dad (she wakes him up by bouncing on her parents' bed at 5 a.m.), that she's fond of hosting tea parties with her toys and making collages, and that "outside is one of my favorite places." There's occasionally some wry counterpoint between the text and Reynolds's spirited, genial watercolors (SugarLoaf announces, for instance, that she and her dad are "morning people" but Dad snoozes over his coffee while his daughter goes full throttle). While the book feels a bit like a set-up for other stories to follow, readers will likely anticipate more tales about the winsome SugarLoaf. Ages 3-7.
Screenshots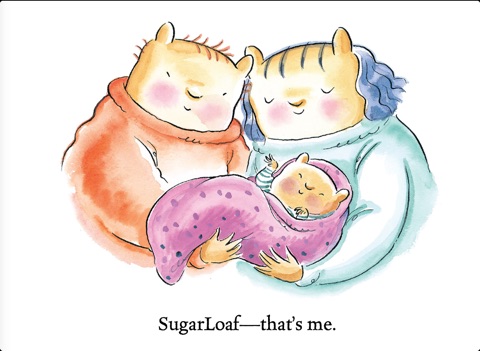 View in iTunes
$3.99

Level: Grades P-3
Category: Basic Concepts
Published: Aug 21, 2012
Publisher: Atheneum Books for Young Readers
Seller: SIMON AND SCHUSTER DIGITAL SALES INC
Print Length: 40 Pages
Language: English