Nastavení mysli
Nová psychologie úspěchu aneb naučte se využít svůj potenciál
Carol Dwecková
This book can be downloaded and read in iBooks on your Mac or iOS device.
Description
>> "Těžko hledat lepší důkazní materiál pro starou pravdu, že všechno jde, když se chce."
– JÁN SIMKANIČ, novinář a publicista <<

# O knize

Světoznámá psycholožka Carol Dwecková působící na Stanfordově univerzitě přišla po desetiletích bádání se skutečně převratnou myšlenkou – upozornila na moc, kterou má nastavení naší mysli.

Dwecková je přesvědčená, že za úspěchem nestojí zdaleka pouze naše schopnosti a talent, ale také to, zda přistupujeme ke svým cílům s fixním nebo s růstovým nastavením mysli. Odhaluje, co všichni skvělí rodiče, učitelé, ředitelé firem a sportovci už vědí, a ukazuje, jak může jednoduchá myšlenka týkající se mozku napomoci lásce k učení a nezlomnosti, které jsou základem úspěchu ve všech oblastech života. 

Aktualizované vydání autorka doplnila o nové informace, které vyplynuly z jejího dalšího studia nastavení mysli nejen lidí, ale i organizací.

# V knize se dozvíte:

- Jaký je rozdíl mezi dvěma typy nastavení mysli
- Že je možné změnit vlastní schopnosti a změnit se jako člověk
- Co spojuje výjimečné studenty
- Jaké nastavení mysli vládne na vašem pracovišti
- Proč někteří lidé umějí budovat trvalé a uspokojivé vztahy
- Jak motivovat děti a pomoci jim zlepšit se nejen ve škole
- Že růstově nastavené mohou být také celé firmy a organizace

# O autorce

CAROL S. DWECKOVÁ, Ph.D., je považována za jednu z předních badatelek v oblasti zkoumání osobnosti a sociální a vývojové psychologie. Působí na Stanfordově univerzitě a je členkou Americké akademie umění a věd. Její texty vycházejí v časopisech The New Yorker a Time či v denících New York Times, Washington Post a Boston Globe.

# Více o knize 
http://melvil.cz/kniha-nastaveni-mysli
Diskutujte o knize s hashtagem #nastavenimysli
What's New in Version 2.0
Nové, aktualizované vydání.
Screenshots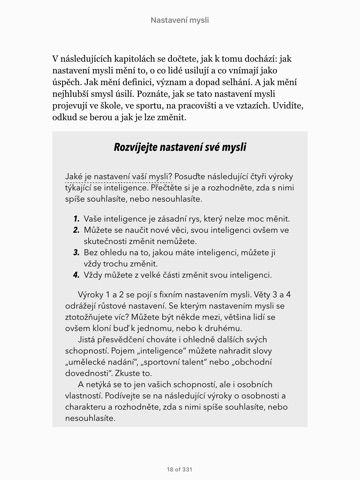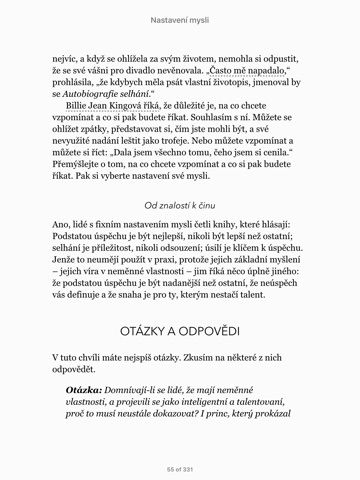 View in iTunes
$7.99

Category:

Self-Improvement

Published:

Sep 29, 2015

Publisher:

Jan Melvil Publishing

Seller:

Jan Melvil Publishing

Print Length:

304 Pages

Language:

Czech

Version:

2.0