Natural Science
Earth and Life Science
Roger O'Brien
This book is available for download with iBooks on your Mac or iOS device. Multi-touch books can be read with iBooks on your Mac or iOS device. Books with interactive features may work best on an iOS device. iBooks on your Mac requires OS X 10.9 or later.
Description
Natural Science is the Earth and Life Science book targeted towards 4th-7th grades that redefines the educational eBook. Natural Science features simplified concepts of complex material, full audio narration using professional voice actors; all while being loaded with images, video, interactive diagrams, auto-graded quizzes, galleries, and even live web content. The eBook can automate much of the heavy lifting that had to previously be done by teachers, follows the Earth and Life Science curriculum taught in most public schools, and most importantly helps students apply the natural sciences to the real world.

Simplified Concepts

Natural Science features simplified (and unbiased) concepts of complex material. By breaking concepts down as simply as possible we solve several problems: Students learn the material faster, students have less questions, and it makes it easier on teachers.

Full Audio Narration

Using full audio narration, teachers don't have to do as much work to teach and makes it easier for students to learn. Natural Science features a male voice actor for the Earth Science part, and a female voice actress for the Life Science part.

Interactive Diagrams, Videos, Galleries, and Quizzes

Using diagrams, videos, galleries, and quizzes; under our tests students learned the same material 2-3 times faster than a traditional text book. With students processing interactive visual information, students can understand concepts more quickly and have a better understanding much faster than static material.

Living Document with an Unparalleled Learning Experience

If you're a parent or teacher that would like to see additional material covered, just contact us and we'll add it!

Natural Science covers the following Chapters and subjects:
       1.  Elements of Nature (Atoms, Elements, Molecules, Minerals, Minerals 2)
       2.  Earth's Structure (Rocks, Erosion Weathering Mass Wasting, Earth's Interior, Lithosphere and Plate Tectonics, Geologic Record, Geologic Time Scale)
       3.  Earth's Surface (Glaciers Deserts and Wind, Earthquakes and Volcanoes, Ocean Basins and Currents, Climate, Climate Zones)
       4.  Above the Earth (Earth's Atmosphere, Clouds, Clouds 2, Air Pressure and Wind Systems)
       5.  Solar System and Beyond (Structure of the Solar System, Formation of the Solar System, Sun's Structure and Functions, Planets, Big Bang Theory, Star Lifecycle)
       6.  Essentials of Life (Chemical Bonds, Amino Acids, Proteins, Cell Structure)
       7.  Building Blocks of Life (Prokaryotic Cells, Eukaryotic Cells 1, Eukaryotic Cells 2, ATP and Active and Passive Transport, Cell Theory)
      8.  Nature's Miracle Workers (Cell Organelles, Cell Division, Chromosomes, The Cell Cycle, Mitosis, Cytokinesis)
       9.  Reproduction of Life (Meiosis, Asexual and Sexual Reproduction, History of Genetics, Mendelian Inheritance)
    10. Genetics (Punnett Square, Genetic Disorders, Genetic Transformations, Theory of Evolution)
       11. Populations (Taxonomy, Population Dynamics, Ecosystems, Biomes and Biological Communities, Photosynthesis, Cellular Respiration)
Screenshots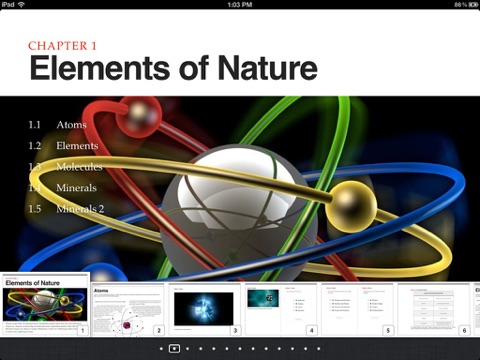 Customer Reviews
Really nice
Provides a good introduction for younger kids and a good review for those who are older. The diagrams make it really easy to understand various concepts, and the audio narration is a nice bonus. While this isn't a full blown replacement for a textbook, it does contain a lot of excellent material, and for a good price.
View in iTunes
$4.99

Level:

Grades 4-7

Category:

Science & Nature

Published:

Apr 09, 2012

Publisher:

Mach Software Design

Seller:

Roger OBrien

Print Length:

223 Pages

Language:

English