The Nuts: Bedtime at the Nut House
Eric Litwin & Scott Magoon
This book can be downloaded and read in iBooks on your Mac or iOS device.
Description
Meet the hilarious Nut family--stars of a new series from the creative genius behind the #1 New York Times best-selling Pete the Cat books!
Features:Read & Play functionality [where available]
Book Description:It's bedtime at the Nut House, but Hazel and Wally Nut aren't ready to settle down just yet. Instead they're bouncing, wiggling, and howling at the moon, and it's up to Mama Nut to guide and wrangle her lovable and rambunctious little ones into bed.
Litwin's expert use of repetition, call-and-response, and clever rhyme offers an unforgettable interactive reading experience inviting readers young and old to join in and have fun.
With lively, rip-roaring illustrations by Scott Magoon, this new series starring the Nut Family will have everyone going nuts for it.
From Publishers Weekly
Aug 18, 2014 –
Hazel and Wally Nut, anthropomorphic nuts who live in an impressive tree house with their parents, have no interest in bedtime. They prefer to stay up playing, dancing, howling at the moon, and singing "We're nuts! We're nuts! We're nuts," ignoring Mama Nut's increasingly stern request: "All little Nuts need to go to bed." Magoon's (Spoon) digital illustrations create a boisterous world for the Nut family to inhabit (their home features a ball pit and an observatory), and Mama's "coif" lends her a particularly authoritative presence as she gives her little nuts "the look." Pete the Cat author Litwin leans heavily on nut-related puns (while Wally and Hazel pretend to be astronauts, an off-stage voice announces, "Houston, we have a praline!" as Hazel plants a flag for the "Unutted States"), which give the book a fairly one-note brand of humor as it makes its way to a reassuring bedtime conclusion. Readers can listen to and/or download Litwin's bluesy spoken-sung performance of the book and two additional songs at www.TheNutFamily.com. Ages 3 6. Author's agent: Amy Rennert, Amy Rennert Agency. Illustrator's agent: Rebecca Sherman, Writers House.
Screenshots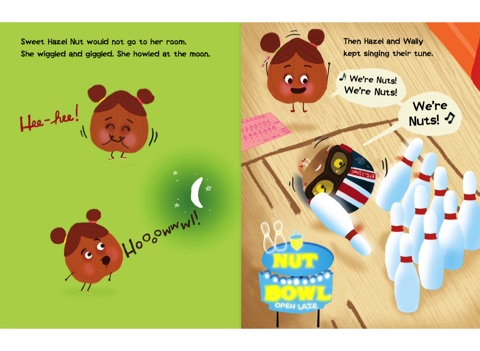 Customer Reviews
The Nuts: Bedtime at the Nut House
Eric Litwin (Pete the Cat) and Scott Magoon (Big Mean Mike) are two of my favorite picture book artists. Seeing what they put together, together, is amazing!! And this rollicking bedtime story does not disappoint. It is a rocking a good time with a fun musical track integrated into the read along story! It will seriously be stuck in your head in the best possible way.
funny and poignant, a must have for families with young kids
Eric Litwin has the neat ability to amuse across the generations. My five year old twins begged me to read this to them 4 times in a row. They sing and laugh and howl along. And it cracks me up too. The book has a wonderful, repetitive structure that builds in intensity until Mama Nut has to use her "biggest voice" (God bless her). Has Eric been spying on my family at bedtime? WE'RE Nuts!! And then the end, with the sweet lullaby...I love The Nuts even more than Pete the Cat (and that's saying something).

Illustrator Scott Magoon drew an amazing tree house for The Nuts (can I have first option to buy if The Nuts move?), and the way those Nutty kids bounce upon the page makes the story all the more lively. This will make a great gift for families with young kids. I'm stocking up.
The Nuts: Bedtime at the Nut a House
I've been eagerly awaiting Eric Litwin's new book. It's everything I hoped it would be. Great rhyming, great song, great story. Can't wait to read it with my grandson at bedtime. It's a perfect engaging story for teaching rhyming words too. Loved the bonus lullaby at the end. Can't wait for another one.
View in iTunes
$9.99

Level: Grades P-3
Category: Fiction
Published: Jul 29, 2014
Publisher: Little, Brown Books for Young Readers
Seller: Hachette Digital, Inc.
Print Length: 32 Pages
Language: English
More by Eric Litwin & Scott Magoon