O Tempo do Fim
Estudo Profético de Daniel 11:40-45
Jeff Pippenger
This book can be downloaded and read in Apple Books on your Mac or iOS device.
Description
Entre os estudantes da profecia bíblica, o capítulo 11 do Livro de Daniel sempre foi um mistério - especialmente os últimos versos. Mas, em Daniel 12:4, o profeta recebe a seguinte instrução: "encerra estas palavras e sela este livro, até ao fim do tempo; muitos correrão de uma parte para outra, e o conhecimento se multiplicará." Esta promessa criou a convicção de que, quando esse tempo chegar, Deus no céu iria revelar esses versos para a humanidade.
Jeff Pippenger, pela primeira vez, oferece uma interpretação coerente e consistente com base no método de prova textual - como o usado pelos pioneiros adventistas, e muitos outros protestantes. Ele mostra que este "tempo do fim" chegou, e conecta versos com eventos que qualquer um nos dias de hoje reconhece. E enquanto Daniel 11:1-40a se refere ao passado, os seguintes versos retratam o futuro, alertando o mundo sobre eventos geopolíticos nunca vistos antes, incluindo a lei dominical à nível nacional, o fim do tempo de graça para a humanidade e o retorno do papado com o mesmo poder de antigamente. Através da luz de Apocalipse 18, os últimos versos de Daniel 11 são uma revelação para a última geração, antes da segunda vinda de Jesus.
Este livro também está disponível em inglês, espanhol, e alemão.
Screenshots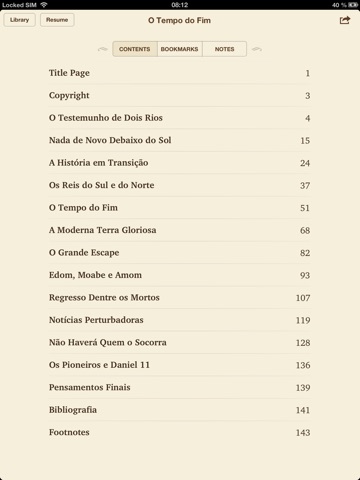 View in iTunes
$4.99

Category:

Bible Studies

Published:

Jan 01, 1995

Publisher:

The Little Book Publishing S.R.L.

Seller:

The Little Book Publishing SRL

Print Length:

80 Pages

Language:

Portuguese