Prague Winter (Enhanced Edition)
A Personal Story of Remembrance and War, 1937-1948
Madeleine Albright
This book is available for download with iBooks on your Mac or iOS device, and with iTunes on your computer. Books can be read with iBooks on your Mac or iOS device.
Description
Prague Winter, the enhanced e-book edition, gives readers exclusive access to ten video interviews and one audio clip with Madeleine Albright. In the enhanced e-book Albright reveals how this book is different from any other she's written and pores over personal photos, family documents, and even a Slovak costume that she wore as a young girl to tell you the stories that bring these artifacts to life.

Before Madeleine Albright turned twelve, her life was shaken by the Nazi invasion of Czechoslovakia—the country where she was born—the Battle of Britain, the near total destruction of European Jewry, the Allied victory in World War II, the rise of communism, and the onset of the Cold War.

Albright's experiences, and those of her family, provide a lens through which to view the most tumultuous dozen years in modern history. Drawing on her memory, her parents' written reflections, interviews with contemporaries, and newly available documents, Albright recounts a tale that is by turns harrowing and inspiring. Prague Winter is an exploration of the past with timeless dilemmas in mind and, simultaneously, a journey with universal lessons that is intensely personal.

The book takes readers from the Bohemian capital's thousand-year-old castle to the bomb shelters of London, from the desolate prison ghetto of Terezín to the highest councils of European and American government. Albright reflects on her discovery of her family's Jewish heritage many decades after the war, on her Czech homeland's tangled history, and on the stark moral choices faced by her parents and their generation. Often relying on eyewitness descriptions, she tells the story of how millions of ordinary citizens were ripped from familiar surroundings and forced into new roles as exiled leaders and freedom fighters, resistance organizers and collaborators, victims and killers. These events of enormous complexity are nevertheless shaped by concepts familiar to any growing child: fear, trust, adaptation, the search for identity, the pressure to conform, the quest for independence, and the difference between right and wrong.

"No one who lived through the years of 1937 to 1948," Albright writes, "was a stranger to profound sadness. Millions of innocents did not survive, and their deaths must never be forgotten. Today we lack the power to reclaim lost lives, but we have a duty to learn all that we can about what happened and why." At once a deeply personal memoir and an incisive work of history, Prague Winter serves as a guide to the future through the lessons of the past—as seen through the eyes of one of the international community's most respected and fascinating figures.

Please note that due to the large file size of these special features this enhanced e-book may take longer to download then a standard e-book.
From Publishers Weekly
Feb 27, 2012 –
The author's childhood reminiscences of her first 11 years and savvy grasp of history inform this absorbing account of Czechoslovakia's travails and Albright's family's suffering in the Holocaust. The daughter of a diplomat in the Czech government who migrated from Prague to wartime exile in London and back to postwar Prague, former secretary of state Albright (Madam Secretary) sketches lively recollections of weathering the Blitz and other adventures, but her narrative mainly investigates things hidden from her as a child. Raised a Catholic, Albright famously learned of her Jewish ancestry in middle age. She pens a moving portrait of life in the "model" ghetto at Terezín, near Prague, through which her relatives passed on their way to death camps. Centering the book is a searching diplomatic history of Czechoslovakia's interwar democracy, which was abandoned to Hitler by the West and then snuffed out by Soviet-backed Communists. The story is enriched by Albright's colorful thumbnails of Eduard Benes, Jan Masaryk, and other principals and by her insights into geopolitics, which yield sympathetic but clear-eyed assessments of the compromises statesmen made to accommodate the ruthless powers surrounding Czechoslovakia. Showing us villainy, heroism, and agonizing moral dilemmas, Albright's vivid storytelling and measured analysis brings this tragic era to life. Photos. One-day laydown. Represented by Bob Barnett.
Screenshots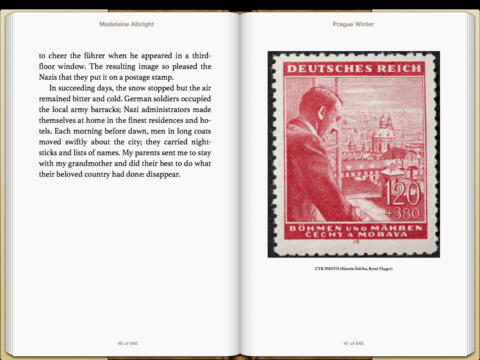 Customer Reviews
Prague Winter
Such an insightful book. Knowing very little of the plight if Ms Albright's country of birth, I have come to understand the tensions and terrors of the Hitler and Cold War years and the impact on a family dedicated to democracy. We were very lucky to have this intelligent, well travelled woman as our Secretary of State. It would be a shame for any reader to ignore the lessons taught in this book regarding our personal responsibility to be well read, have a clear understanding of issues and act upon moral issues when evil seeks to destroy the liberty of neighbor, state or country.
Prague Winter
This book had special meaning. My great uncle Karel Kraus was also in the Ministry of Foreign Affairs in Czechoslovakia in the same period. I met him for the first time in 1994. Reading the book brought back memories of my trip to Prague.

John Kopecky
View in iTunes
$14.99

Category: Biographies & Memoirs
Published: Apr 24, 2012
Publisher: Harper
Seller: HarperCollins
Print Length: 480 Pages
Language: English
More by Madeleine Albright