Quantum Monthly
A Quantum Consciousness Key Collective
Lisa Campion y otros
Este libro está disponible para descargarlo con iBooks en tu Mac o dispositivo iOS. Puedes usar iBooks para leer libros Multi-Touch en tu Mac o dispositivo iOS. Los libros con características interactivas funcionan mejor con un dispositivo iOS. En tu Mac, iBooks requiere OS X 10.9 o posterior.
Descripción
An special issue on quantum mind is finally here!

You will find articles written by experts in their areas, addressing stories from philoshopy to artifical intelligence, and contributed by bioethicists, natural healers, professors in philosophy, spiritual counselors, and journalists. 

This special issue includes:

- An amazing animation from NASA of a solar Coronal Mass Ejection slamming into our magnetosphere.
- More than 70 pages with conceptual images and illustrations, easy-to-read texts, and pop-up notes with supportive information.
Capturas de pantalla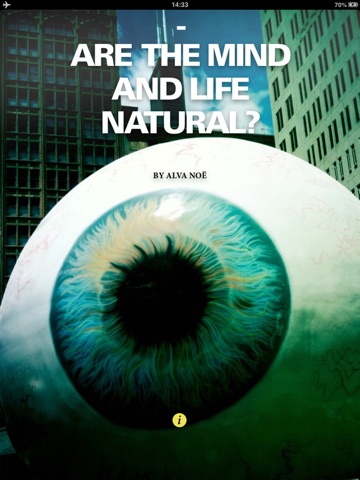 Ver en iTunes
Gratis

Nivel:

Cursos: 14-17

Categoría:

Ciencia y naturaleza

Publicación:

23/05/2013

Editorial:

Marcos Vilela

Vendedor:

Marcos Vilela-Bermudez

Páginas impresas:

75 páginas

Idioma:

Inglés
Más de Lisa Campion, Vicky Anderson, George Dvorsky, Alva Noë, Konstantin Eriksen, Peter Westermann & April McCarthy