Relish
My Life in the Kitchen
Lucy Knisley
This book can be downloaded and read in iBooks on your Mac or iOS device.
Description
Lucy Knisley loves food. The daughter of a chef and a gourmet, this talented young cartoonist comes by her obsession honestly. In her forthright, thoughtful, and funny memoir, Lucy traces key episodes in her life thus far, framed by what she was eating at the time and lessons learned about food, cooking, and life. Each chapter is bookended with an illustrated recipe—many of them treasured family dishes, and a few of them Lucy's original inventions.

A welcome read for anyone who ever felt more passion for a sandwich than is strictly speaking proper, Relish is a graphic novel for our time: it invites the reader to celebrate food as a connection to our bodies and a connection to the earth, rather than an enemy, a compulsion, or a consumer product.

A Publishers Weekly Best Children's Book of 2013
An NPR Best Book of 2013
From Publishers Weekly
Feb 11, 2013 –
When we eat, we take in more than just sustenance, writes Knisley (French Milk) in this nostalgic and funny food-centric memoir, and it s a fitting motto for the book and for anyone who takes even the slightest pleasure in cooking and, more importantly, eating. Having grown up surrounded by delicious food, thanks to her gourmand father and earthy superchef mother, Knisley looks back on her childhood and adolescence through her roving palette and voracious appetite for new tastes and experiences. With each memory Knisley shares, she shows that life, like a good meal, should be savored and that all food even junk food is more than just fuel. For those uninitiated in the mysterious art of pickling, the nuance of cheese, or making sangria (yes, a couple cocktail recipes appear), Knisley s candid storytelling, deadpan humor, and clear-line cartooning make the book entirely accessible, extinguishing the pretensions that sometimes predominate the culinary world. Like a giant bowl of spaghetti carbonara or tower of huevos rancheros (recipes included), this is a book that teenagers and parents will savor in equal measure. Ages 15 up.
Screenshots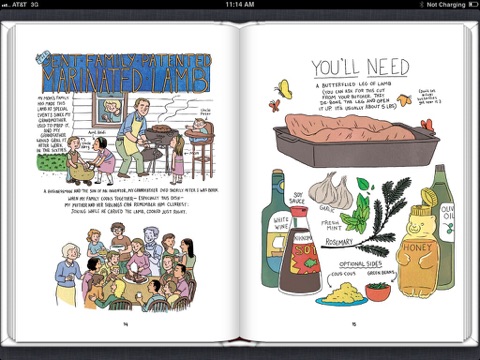 View in iTunes
$9.99

Category: Graphic Novels
Published: Apr 02, 2013
Publisher: First Second
Seller: Macmillan
Print Length: 176 Pages
Language: English