Sailor Twain
Or: The Mermaid in the Hudson
Mark Siegel
This book can be downloaded and read in iBooks on your Mac or iOS device.
Description
One hundred years ago. On the foggy Hudson River, a riverboat captain rescues an injured mermaid from the waters of the busiest port in the United States. A wildly popular--and notoriously reclusive--author makes a public debut. A French nobleman seeks a remedy for a curse. As three lives twine together and race to an unexpected collision, the mystery of the Mermaid of the Hudson deepens.

A mysterious and beguiling love story with elements of Poe, Twain, Hemingway, and Greek mythology, drawn in moody black-and-white charcoal, Sailor Twain is a study in romance, atmosphere, and suspense.

Sailor Twain is one of The Washington Post's Top 10 Graphic/Comic Reads of 2012
From Publishers Weekly
Sep 03, 2012 –
In a work that calls to mind Conrad s enigmatic short story The Secret Sharer, we follow the story of Captain Twain, a steamboat captain who discovers a wounded mermaid clinging to the side of his ship. Twain secretly brings her aboard, stows her in his cabin, and nurses her back to health, developing a strong attachment to her in the process. As he begins to learn her story, he recognizes that it may have a connection to correspondence between Dieudonn de Lafayette, the womanizing proprietor of the steamboat line, and writer C.G. Beaverton. Lafayette spends his days in endless conquest of the women who board his steamboat, which keeps him distracted enough that he doesn t discover Twain s secret stowaway. What readers eventually discover about the mermaid and her world brings about a series of dramatic events that lead to the story s remarkable conclusion. Siegel s strength as a storyteller is in knowing precisely how to balance the verbal and the visual, sometimes taking us for two or three pages on a wordless sequence that says so much more than dialogue ever could. As well, the manner in which he presents both the real and the fantastic shows his profound understanding of both worlds.
Screenshots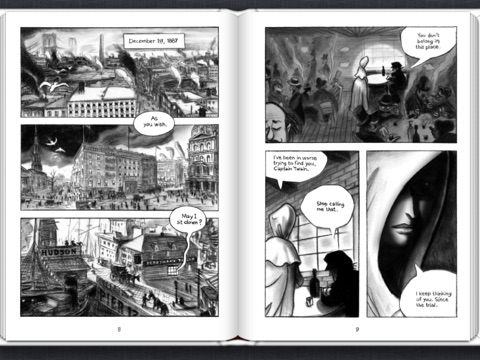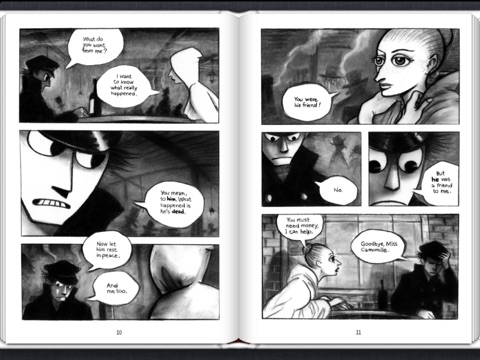 Customer Reviews
Glorious supernatural romance
Mysteries and romances in the Gilded Age ... A dream of a story told in stunning charcoal images and exquisite dialog... Great reviews are all deserved.
An Excellent Read
I'm only roughly half way through, but I'm enjoying this read so much that I felt compelled to place a book mark in and come here to write a positive review.
Obviously, I'd recommend Sailor Twain to anyone.
View in iTunes
$9.99

Category: Comics & Graphic Novels
Published: Oct 02, 2012
Publisher: First Second
Seller: Macmillan
Print Length: 400 Pages
Language: English