Science Ink
Tattoos of the Science Obsessed
Carl Zimmer
This book can be downloaded and read in Apple Books on your Mac or iOS device.
Description
Body art meets popular science in this elegant, mind-blowing collection, written by renowned science writer Carl Zimmer. This fascinating book showcases hundreds of eye-catching tattoos that pay tribute to various scientific disciplines, from evolutionary biology and neuroscience to mathematics and astrophysics, and reveals the stories of the individuals who chose to inscribe their obsessions in their skin. Best of all, each tattoo provides a leaping-off point for bestselling essayist and lecturer Zimmer to reflect on the science in question, whether it's the importance of an image of Darwin's finches or the significance of the uranium atom inked into the chest of a young radiologist.
From Publishers Weekly
Oct 10, 2011 –
Noting a colleague s DNA-inspired tattoo at a pool party, science writer Zimmer (A Planet of Viruses) wondered how widespread the phenomenon of the inked scientist was. He solicited pictures for his blog, The Loom, and, inundated with photos and stories from scientists and laypeople alike, quickly became a curator of science-inspired body art. Mary Roach s foreword lays out why, given the passion with which so many approach their fields, it should be no surprise to encounter this worldwide tribe whose obsessed love for every far-flung corner of science s domain was marked permanently on their bodies. Divided into 13 sections, the book is filled with breathtaking color photos accompanied by grounding texts: Portuguese geneticist D novan Fereira Rodrigues, who got Isaac Newton s shoulders of giants quote inked on his back, tells the story behind the phrase; August Kekule s discovery of benzene s structure inspired Virginia pharmacology PhD. Jeffrey Ikeda; a tattoo of Nikola Tesla s visions of a wireless future lies on the arm of Abraham Orozco, the science director of a children s community center in L.A. Genetics, neuroscience, and evolution (Darwin gets his own section) form the book s modern cornerstones and the tattoos range from full back pieces and sleeves to little often concealable personal reminders. Encyclopedic in essence, Zimmer s coffee-table art book presents a wealth of material.
Screenshots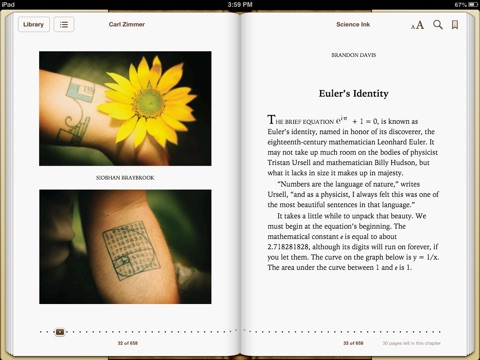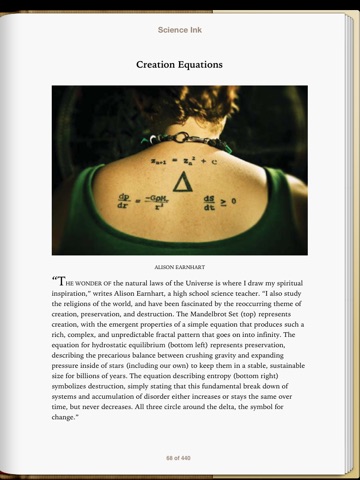 View in iTunes
$11.99

Category: Essays
Published: Nov 01, 2011
Publisher: Sterling
Seller: Sterling Publishing Co., Inc.
Print Length: 288 Pages
Language: English