Song of the Stars
A Christmas Story
Sally Lloyd-Jones
This book can be downloaded and read in iBooks on your Mac or iOS device.
Description
The Song of the Stars, written by best-selling author Sally Lloyd-Jones, is a Christmas book that explores the joy and excitement and celebration in all of creation at the coming of Jesus. They've been waiting with eager longing for the coming of God's long promised son, and when at last he arrives, though it's mostly unnoticed by mankind, the whole earth holds its breath: their Creator, Jesus, Emmanuel has come to the world that He made. Mountains, trees, seas, skies, stars, animals—the rumor spreads that at last the time has come. It's time! He's here! And a poor teenage couple and some ragged shepherds join in their song of joy.
From Publishers Weekly
Sep 26, 2011 –
Lloyd-Jones (How to Get a Job... by Me, the Boss) refreshes the Nativity story by placing it in the context of the animal kingdom, and not just the familiar sheep and cows at the stable. White whales sing, salmon leap, every single blade of grass around the world squeak and hum the news of the coming of the One who made us. Jay (I Took the Moon for a Walk) offers spread after spread of animals in motion, as they make a beeline for the manger, where they form a protective circle of snouts, noses, bills, and beaks around the baby. Jay s paintings have her characteristic craquelure finish, adding an antique element to this fresh, circle-of-life take on the Christmas story. Ages 4 up.
Screenshots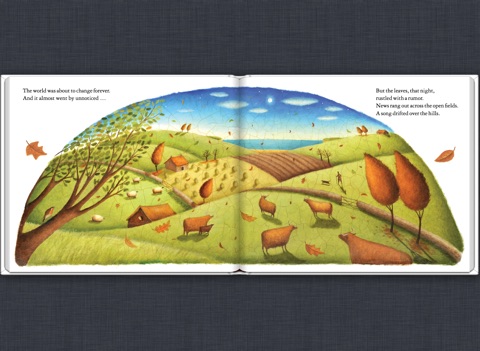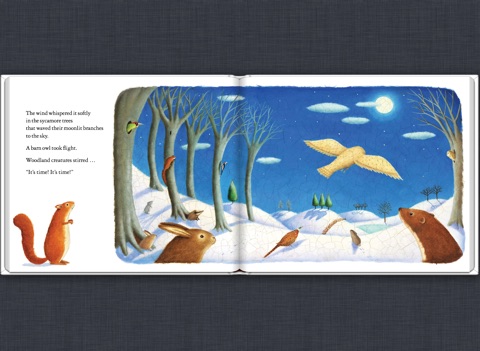 View in iTunes
$7.99

Level: Grades P-2
Category: Christmas & Advent
Published: Dec 25, 2012
Publisher: Zonderkidz
Seller: HarperCollins
Print Length: 32 Pages
Language: English
More by Sally Lloyd-Jones