Secrets of the World's Best Grilling
A Video and Recipe Master Class With Steven Raichlen
Steven Raichlen
This book is available for download with iBooks on your Mac or iOS device. Multi-touch books can be read with iBooks on your Mac or iOS device. Books with interactive features may work best on an iOS device. iBooks on your Mac requires OS X 10.9 or later.
Description
Take your grilling to the next level with bold and authentic international recipes from America's bestselling, award-winning grilling authority, Steven Raichlen. In this multi-touch book made with iBooks Author and specially designed for the iPad, the man Esquire called "America's Master Griller" has gathered the most eye-popping, jaw-dropping, most guaranteed-to-wow recipes from his extensive travels around Planet Barbecue. Mouthwatering photographs plus step-by-step slide shows and video bring smoke, spice, and sizzle from faraway places right to your backyard. 

Includes: 

• Instructional videos that have you grilling side-by-side with Steven Raichlen—each chapter begins with a video showing a recipe preparation from start to finish. 
•Photo slideshows throughout breaking down the techniques with step-by-step instructions. 
•Stunning color photographs. 

Learn how to make a sensational Spiessbraten from the Rhine-Palatine region of Germany. Curried pork kebabs from Cape Town, South Africa. From Buenos Aires, a chimichurri-topped strip steak. Gaucho-Style Beef Ribs straight out of Brazil. Lamb on a Shovel from Australia. Mussels Grilled on Pine Needles from the western coast of France. It's a travelogue and cookbook all rolled into one.

Millions of grillers have honed their skills with Steven Raichlen as their guide. Now, in his primer on live-fire cooking from around the world, he's taking it up a notch. Fasten your seatbelts and join him on a rip roaring tour of the world's barbecue trail. 
Note: Contains material previously published in the print edition of Planet Barbecue!

About the Author: 
Steven Raichlen's bestselling, award-winning Barbecue! Bible® cookbooks have over 4 million copies in print, with translations in 17 languages. His articles have appeared in The New York Times, Esquire, Bon Appйtit, and dozens of other publications. His popular television series, Primal Grill and Barbecue University, air on PBS and are available on DVD; he also hosts a French-language grilling show called Le Maitre du Grill. A former Bon Appetit Cooking Teacher of the Year, Raichlen is the founder of Barbecue University at the Broadmoor resort in Colorado Springs. He lives and grills in Coconut Grove, Florida, and on Martha's Vineyard, Massachusetts. To find out more about Steven Raichlen and sign up for his newsletter, please visit him at barbecuebible.com.

Barbecue! Bible is a registered trademark of Steven Raichlen and Workman Publishing Company, Inc.
From Publishers Weekly
Apr 19, 2010 –
Barbecue cookbooks are often large; every Raichlen barbecue cookbook is large in its own way. Reaching beyond the scope of his BBQ USA (425 recipes in 784 pages) and the 10th edition of his Barbecue! Bible (500 recipes in 556 pages), this Tolstoy of Tabasco traveled the globe thrice, stopping everywhere he could think of in search of the next great dinner. Six continents, 53 countries, and 275 recipes later, there is grilled crocodile with garlic walnut lime sauce from Kenya, and Singaporean grilled pork belly. There is Kuwaiti chili shrimp, and kangaroo kebabs from you know where. Each country gets a two-page profile, which lists the types of grills and fuels most common to the region, dishes that are a must if you happen to be in the neighborhood, as well as what traditional condiments one might expect to find on one's beef, fish, pork, or vegetables. There are also profiles of various Fire Starters, grill masters he has met on his voyage such as Madam Djan and Miss Panin, the grilled fish divas of Laos. The chapters are arranged by meat rather than point of origin, so the Serbian bacon-grilled prunes are seated next to the jalape o poppers, and Laotian grilled fish sits next to Canadian trout grilled on a log.
Screenshots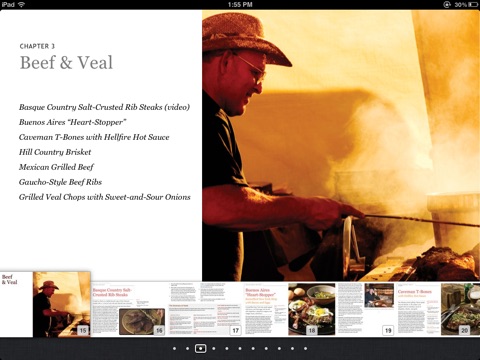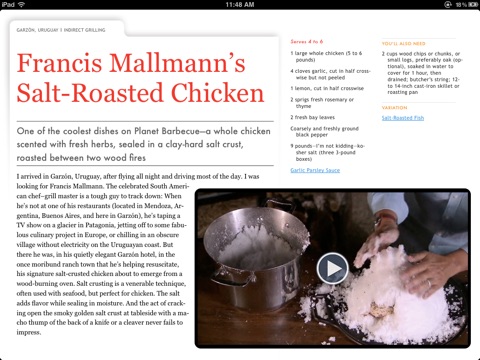 Customer Reviews
Amazing book
Good use of videos. Wish more cookbooks are like this.
Unbelievable Bargain!
This book is a work of art. Not only are the recipes and pictures tantalizing, but the use of the available technology is mind-blowing! The way the author incorporates videos and sideshows into his recipes is beautiful. After viewing the sample, I'd easily have paid twice the price for this book. If you love grilling or want to learn more about it, buy this book!
Secrets of to Worlds Best Grilling
I read the reviews and was excited about what the new features would be like, plus the author has great recipes.

Unfortunately it won't download and I can't delete it to retry downloading.
View in iTunes
$6.99

Category: Methods
Published: Aug 14, 2012
Publisher: Workman Publishing Company
Seller: Workman Publishing Co., Inc.
Print Length: 250 Pages
Language: English