Stretches
Diyako Sheikh Mohammadi
Este libro se puede descargar y leer en iBooks desde tu Mac o dispositivo iOS.
Descripción
Very useful book about different types of stretches and their definition. 

There is plenty of examples and movement for single muscles and  muscle groups from head to toe including:
- Neck
- Glide
- Deltoid
- Shoulders
- Shoulder Blades
- Triceps
- Biceps
- Wrist
- Chest
- Abdominals
- Upper and lower Back
- Hip
- Buttocks
- Quads
- Hamstring
- Adductor
- Calf
- ankle

all the movements are with picture and they are very easy to follow. 
Capturas de pantalla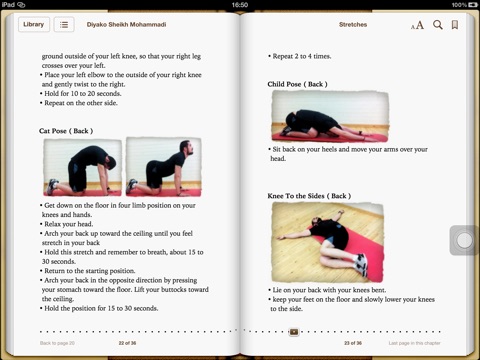 Reseñas de usuarios
Good Job!
really useful book for busy business man like me!
Great book & photos
Finally a book that puts a total body stretching into one book. The photos are clear & concise so you can replicate .
Yes!
Thanks diyako , this is great ! Gd job man !
Ver en iTunes
Gratis

Categoría:

Deportes y vida al aire libre

Publicación:

25/07/2012

Editorial:

Diyako Sh.Mohammadi

Vendedor:

Diyako Sh.Mohammadi

Páginas impresas:

12 páginas

Idioma:

Inglés