Superman for All Seasons
Jeph Loeb & Tim Sale
This book can be downloaded and read in Apple Books on your Mac or iOS device.
Description
In this coming-of-age tale witness the experiences and adventures that transform a simple country boy into the world's greatest hero. Told through the course of four seasons in the Man of Steel's adolescent life, it illustrates that it is the person, not the powers, that makes Superman a hero.The catalyst for the "Smallville" television program, SUPERMAN FOR ALL SEASONS is emotional and insightful, humanizing the alien from another planet so that he is not only realistic but also relatable. It also features in-depth characterizations of Lana Lang, Lex Luthor, Lois Lane and the Kents.
Screenshots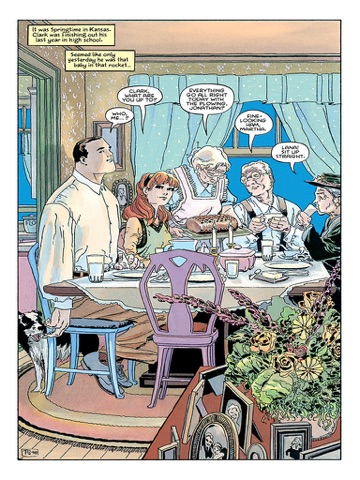 Customer Reviews
Best Superman Origin
You're probably thinking why I would choose this over "Birthright" and "Earth One". Well, I haven't read "Earth One" yet, but we'll get to that later.
What makes this origin so great is that it also focuses on the people and town that Clark Kent grew up with. But of course, it doesn't stop there. In John Byrne's take, you see Jonathan Kent tell Clark where he came from. Here, you have to guess what they're saying. That makes it a lot more interesting. Speaking of which, I also like how they never mention Krypton in this story. It does what it should do: it tells the story of the farm boy who became the greatest hero and the people around him. Of all the Superman origins, I think it does the best job of explaining the rivalry between the Man of Steel and his archenemy (Lex Luthor, of course). As Bruce Timm put it, Lex basically owns Metropolis since he helped build the city and people use his technology. But when Superman shows up, Lex is like, "This town ain't big enough for the two of us; one of us has got to go". And Superman does leave after a well-thought out plan by Lex to make him feel guilty about a death. Nowadays, I'm a Cliana goer, but when I read this comic, it makes like Clana. Because it also focuses on the relationship between them, rather than Clark and Lois. Tim Sale also has a habit of wide spread panels, and every one of them is beautiful.
So if you're a fan of "Smallville" or you think Superman has the best origin, then this is the comic for you.
Superman
Read this book even if you are not a superman fan it's a great story with a lot of heart I highly recommend this masterpiece.
View in iTunes
$12.99

Category:

Graphic Novels

Published:

Oct 09, 2012

Publisher:

DC Comics

Seller:

DC Comics.

Print Length:

209 Pages

Language:

English