Teleny and Camille
Jon Macy
This book can be downloaded and read in iBooks on your Mac or iOS device.
Description
Winner of the 2010 Lambda Literary Award for Gay Erotica.

Teleny is the haunted musical genius that everyone desires but no one has truly touched… until the fateful night that he senses Camille's presence in the audience. The wealthy young man is instantly seduced by Teleny's dark beauty and smoldering melancholy.

Has Teleny found the lost piece of his soul only to lose it? Will Camille be doomed to wallow in the shallows of depravity and madness? Teleny has offered his heart to his love, so why does Camille not embrace him?

The groundbreaking and powerful early gay novel "Teleny, or the Reverse of the Medal"—written in secret by Oscar Wilde and his anonymous circle of writers and poets—is now reinterpreted as a graphic novel, in all its lush excess.
Screenshots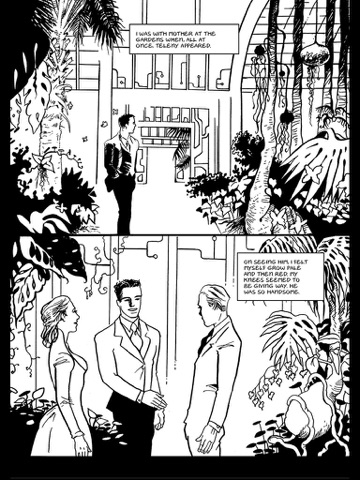 Customer Reviews
TELENY and Me
I was first introduced to TELENY AND CAMILLE several years ago, when Jon Macy had not yet completed the book. Rough as it was, it was still gorgeous and made quite an impact on me; I immediately asked if I could help with production and lettering on the project. I wanted to make sure that it was presented to the world with the style and panache it deserved.

A few years later, Jon completed TELENY and brought it out as a self-published edition in the Spring of 2010. Several friends in indie LGBT comics had been mentioning to me that there were few small publishers accepting graphic novel and comics work, especially not gay stuff. Jon was still looking for a publisher.

My birthday present to myself that Spring was a business plan for Northwest Press, a publisher specifically devoted to LGBT comics and graphic novels. I was proud to work with Jon to remaster TELENY and come out with a bold, elegant edition of the book that emphasized its literary roots and importance as a work of art.

I'm definitely one of those fast comics readers, trained by the modern, flashy comics that bombard you with splash pages and expect short attention spans. But as I lettered TELENY to get it ready for print, I was forced to really slow down and take in the emotional weight of it. For erotica, it's more moving, thought-provoking and harrowing than I realized at first read. I came to appreciate more fully what a truly beautiful piece of work this is, and was more pleased than ever that I was going to be part of bringing this book to a wider audience.

TELENY is a tragic romance, first and foremost, blending forbidden longing and danger with a lush, sensual style evoking Aubrey Beardsley and art deco design. Jon lingers on the figures' lips, the curves of their bodies, and makes them so supple that you can almost feel them, even with their stylized quality.

While the sex scenes in TELENY are often transcendent, there's also a good share of horror, both in the sexual goings-on and in the societal pressure that comes to bear on our protagonists. The prostitutes that Camille and his college chums visit are beautiful at first glance, but reveal snaggle-teeth, wear and disease when observed more closely. Sexual abandon leads, in more than one case, to tragic injury and death. And the specter of public shame and condemnation hangs over the book like a shroud, familiar to most gay people from their life before exiting their personal closets.

But Jon makes the light so bright, the tenderness so sweet, that we can understand why these people still savor it, still strive, still hope. He brings the love story between these two men to the fore, and structures the whole story around it, even challenging the original, tragic ending of the novel with his own, added take.

The novel "Teleny" was written by a number of authors, in "round robin" style, and Jon observes that the original ending was written when no gay man could dare imagine a happily-ever-after in his future. He wryly observes that sentiment's persistence in literature, film and television, despite over a century of progress.

So Jon picks up the baton and carries the project across the finish line. I'm among those cheering him on, with tears of joy at the sight.
A rare delight.
It's not too often you see a graphic novel that's absolutely soaking in talent and heartfelt passion. The ink work, page layout, and detail is so intricate, you won't doubt for a second this book was put together over many, many years full of late nights. As the cherry on this delicious layered cake is the beautifully articulated characters. Whether or not you're familiar with the source material (I wasn't), it's worth a read.
An old romance in a fresh & nubile young body
Teleny and Camille, adapted by Jon Macy from the forbidden Victorian age erotic text by Oscar Wilde and his crowd, is an important new work that should and I believe will take its place in the still-young canon of gay-themed comics/graphic fiction, alongside insta-classics like Howard Cruse's Stuck Rubber Baby and Alison's Bechdel's Fun Home (interestingly, like both of those books, Macy's Teleny examines and dramatizes our past in part in an effort to contextualize it for the present). Macy, long one of the better-kept secrets of the alterna-cartooning scene, gay or otherwise, here outs himself as a master of the medium with his lush, beautifully drafted, tactilely erotic drawings, simultaneously capturing the swooning romance and gothic decadence of the text. As a bonus, and in the spirit of the original round robin, let's-make-it-up-as-we-go format, Macy offers up a new ending for the lovers; luckily for all of us such a conclusion is ever-more possible in the present day. Let's hope publication of this lovely tome from the newly-minted Northwest Press gains Macy the wide recognition he richly deserves. 5 stars, baby.
View in iTunes
$12.99

Category:

Graphic Novels

Published:

Jul 21, 2010

Publisher:

Northwest Press

Seller:

Northwest Press

Print Length:

248 Pages

Language:

English