Ten Tiny Toes
Todd Tarpley & Marc Brown
This book can be downloaded and read in iBooks on your Mac or iOS device.
Description
A tender tribute to the life that awaits each new set of ten tiny toes--featuring heart-warming collage illustrations by Marc Brown and including babies of every size, shape, and color!
Into the world came ten tiny toes,
a hundred times sweeter than one could suppose....

There's nothing sweeter in the world than a baby's ten tiny toes. From tiny feet nuzzled and tickled in the crib to bath time, playtime, and those very first big steps, here is a wonderful way to commemorate the unforgettable moments in a young child's life.

Marc Brown's adorable collage illustrations bring Todd Tarpley's rhythmic text to life in this tender read-aloud. It is a joyous celebration of the unbreakable bond of love that guides a child through each exciting milestone and beyond.
From Publishers Weekly
Jul 09, 2012 –
It is a truth universally acknowledged that babies have irresistible toes a hundred times sweeter/ than one could suppose, as Tarpley (How About a Kiss for Me?) writes. And according to Brown s terrific cut-paper, gouache, and colored pencil illustrations, it s a sentiment that even the family dog can embrace. But toes are more than delicious and cute they re an essential player in ensuring that babies literally get a toehold in the world ( They tricked and they treated,/ those tiny toes did./ They pushed and they pedaled,/ they skated, they slid ). As Tarpley s simple, bright rhymes gently accelerate in momentum along with the progress of their subject matter ( And one day those ten/ tiny toes tried a test./ Five toes took a step/ out ahead of the rest ), Brown (Dancing Feet!) shows babies of every background moving from adorable, giggly reactiveness to calm, clear-eyed independence. The veteran illustrator s masterful juggling of color and patterning which could have turned to visual mushiness in less experienced hands brings a fresh warmth and celebratory energy to even the most familiar childhood scenes. Up to age 3.
Screenshots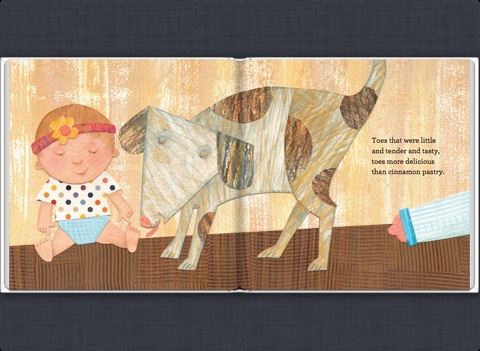 View in iTunes
$9.99

Level: Grades P-P
Category: Family & Relationships
Published: Sep 04, 2012
Publisher: Little, Brown Books for Young Readers
Seller: Hachette Digital, Inc.
Print Length: 32 Pages
Language: English
More by Todd Tarpley & Marc Brown