The Ask and the Answer
Book 2, Chaos Walking - Chaos Walking: Book Two
Patrick Ness
This book can be downloaded and read in iBooks on your Mac or iOS device.
Description
Part two of the literary sci-fi thriller follows a boy and a girl who are caught in a warring town where thoughts can be heard — and secrets are never safe. Reaching the end of their flight in THE KNIFE OF NEVER LETTING GO, Todd and Viola did not find healing and hope in Haven. They found instead their worst enemy, Mayor Prentiss, waiting to welcome them to New Prentisstown. There they are forced into separate lives: Todd to prison, and Viola to a house of healing where her wounds are treated. Soon Viola is swept into the ruthless activities of the Answer, while Todd faces impossible choices when forced to join the mayor's oppressive new regime. In alternating narratives the two struggle to reconcile their own dubious actions with their deepest beliefs. Torn by confusion and compromise, suspicion and betrayal, can their trust in each other possibly survive?
From Publishers Weekly
Aug 31, 2009 –
This grim and beautifully written sequel to Ness's The Knife of Never Letting Go picks up where its predecessor left off and will have readers racing to its painful conclusion. Having escaped from the dystopian, all-male Prentisstown, teenagers Todd and Viola have fled to the city of Haven, only to discover that Prentisstown's mayor, a powerful and charismatic sociopath, has gotten there first, intent on controlling the entire planet. Separated, the friends are caught up on opposite sides of a horrific, morally ambiguous civil war, with Todd coming close to madness. (Viola later reminds Todd, who has undertaken some shocking and cruel responsibilities while working with the mayor, We all fall but that's not what matters. What matters is picking yourself up again. ) This superb novel, which ends with a gripping cliffhanger that sets up the third Chaos Walking book, uses a brilliant cast of well-developed characters and its singular setting and premise to present a provocative examination of the nature of evil and humanity. This is among the best YA science fiction novels of the year. Ages 14 up.
Screenshots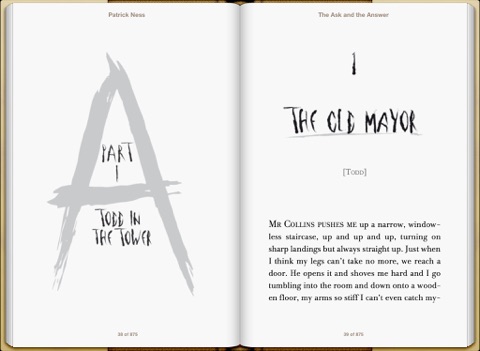 Customer Reviews
Love it
Flipping amazing read I just couldn't stop reading it O.O
Perfection in Literature
There are some books that hold meaning and try to bring across a point to the reader. This book, and the whole trilogy, make you think no matter what. It is a book which I have read about 10 times and it still leaves me shocked and awed. It takes your world and flips it. A book that I would recommend to high school dropout as much as to a Harvard professor. It a a masterpiece that is as easy to read as Dr. Seuss but moves you in ways you don't really think a book can. I am telling you right now. Read. This. Book. You'll see what I mean.

P.S.
Read the first book first...duh....
Amazingly Fantastic
This book is just as good as the first and I'm going to read this over and over and over millions of times!!!!!!!!
Other Books in This Series
View in iTunes
$9.99

Level: Grades 9 and Above
Category: Fantasy
Published: Sep 08, 2009
Publisher: Candlewick Press
Seller: Candlewick Press, Inc.
Print Length: 528 Pages
Language: English
Series: Book 2, Chaos Walking