The Belly Fat Diet Cookbook
105 Easy and Delicious Recipes to Lose Your Belly, Shed Excess Weight, Improve Health
John Chatham
This book is available for download with iBooks on your Mac or iOS device. Books can be read with iBooks on your Mac or iOS device.
Description
Getting rid of belly fat is not about doing hundreds of crunches; it's about what you eat.

In THE BELLY FAT DIET COOKBOOK, best-selling health and nutrition author John Chatham blasts the myths surrounding belly fat, and shows you how to finally get a flat stomach. The groundbreaking research in The Belly Fat Diet Cookbook reveals a science-based approach to healthful eating and looking good that doesn't involve starving yourself. The Belly Fat Diet Cookbook provides delicious, easy-to-follow recipes, and teaches you how to eat more and still achieve a flat belly.

• Get more than 100 satisfying, delicious recipes that will help you melt away belly fat, including Chicken Stir Fry, Almond Encrusted Salmon, and a delicious Berry Parfait.
• Use the Belly Fat Diet Shopping Guide to minimize your intake of sugar and processed carbohydrates.
• Read about the many myths behind the causes of belly fat, and why scientific research has proven these myths to be wrong.
• Learn the dangers of excess belly fat, from its harmful impacts on your liver to increasing your risk of type 2 diabetes, heart disease, dementia, and stroke.
Screenshots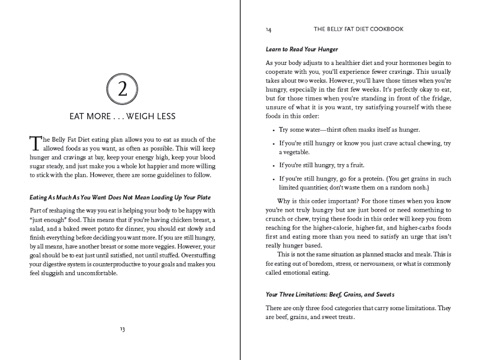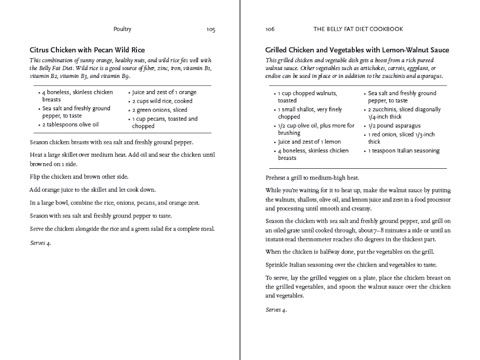 Customer Reviews
Simple and Scrumptious Recipes
The Belly Fat Diet Cookbook begins by briefly outlining the reasons why belly fat is dangerous and describing the misleading nature of common myths. Chatham also provides 5 clearly defined tools for specifically attacking stubborn belly fat through balancing hormones and employing interval training. This cookbook is designed to make dieting easier by listing specific foods to be utilized in the wide variety of mouth-watering recipes. Each recipe has simple instructions and tips to produce delicious meals every time, and recipes are organized by type (i.e. breakfasts, soups, etc) to eliminate confusion. Be sure to save room for the array of delectable and diet-friendly desserts.
Delicious, nutritious and simple to follow
The Belly Fat Diet Cookbook is a great book for anyone who would like to target their midsection while simultaneously learning about how to get the most out of your food. This book organizes food choices into categories such as super-foods, dairy, grains, beverages, fruits and vegetables, fish and seafood, meat and poultry so that the reader has a quick reference guide to make the best food choices. There is even a shopping guide included so that you are not overwhelmed at the supermarket. An all-in-one book with recipes, scientific research, supplement information, food guides, and breakfast, lunch , and dinners planned out for you…all you have to do is read it and eat it!
Great Cookbook!
I really am enjoying using this cookbook. I love how helpful it has been to my new lifestyle change. The Apple Couscous with curry salad is my new favorite lunch and I am excited to try the White Bean, Cherry Tomato and Kale soup! The meals are very simple to follow and easy to make. I've really enjoyed everything that I've made so far which is nice considering sometimes cookbooks, especially healthy ones, can be a little disappointing! This one is great, I've already started losing weight and because I can tell that it's a direct result from my change in diet it's really keeping me motivated to stay with it. The writer really does an excellent job of explaining the theory behind his meals and makes it easy to understand the data. I've been able to incorporate his knowledge into my other recipes so that I am overall eating much healthier. So all in all this is a great cookbook to add to my collection and I am very happy with my purchase.
View in iTunes
$6.99

Category:

Special Diet

Published:

Feb 05, 2013

Publisher:

Callisto Media Inc.

Seller:

Callisto Media, Inc.

Print Length:

146 Pages

Language:

English