The Book of Mormon
The Church of Jesus Christ of Latter-day Saints
This book can be downloaded and read in iBooks on your Mac or iOS device.
Description
The Book of Mormon is a volume of holy scripture comparable to the Bible. It is a record of God's dealings with the ancient inhabitants of the Americas and contains the fulness of the everlasting gospel. The Prophet Joseph Smith translated this record by the gift and power of God and first published it in March of 1830 as the Book of Mormon. It is now published in many languages as a new and additional witness that Jesus Christ is the Son of the living God and that all who will come unto him and obey the laws and ordinances of his gospel may be saved. The 2013 edition of the Book of Mormon includes clarifications and adjustments to the introduction, footnotes, and chapter headings; however, these adjustments have not been so extensive as to require members to purchase the new edition to stay current with either the Church curriculum or personal study.
Screenshots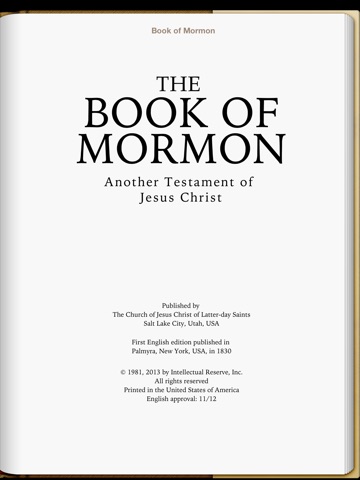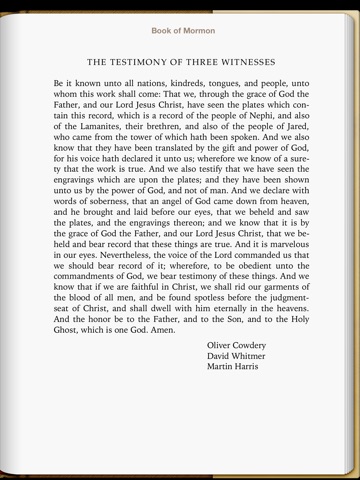 Customer Reviews
This is the best book EVER
You should read this book I like christen books and found this one you can tell its true
The Play Was Better :(
Usually when it comes to these types of things, the source material is waaay better than the adaptation. In adaptations things are usually removed or reworked to "make" running time. Characters are combined, subplots are dropped, etc. Sadly, that isn't the case with this book; in short, the play was much, much better.

I'll admit, maybe it's because I saw the adaptation first, but what's on the page isn't nearly as good as the Broadway show. The show was full of humor, excitement, music, and even an African war lord! All that's missing here! Instead the book stretches out the 5 minute prologue in the show to an excruciating 300+ pages.

I'm glad I read it, I just wish they'd focused a bit more on the plight of Elder Price and Cunningham instead of this Joesph Smith fellow. 17th Century melodrama in Missouri isn't exactly an exciting read!
Book of Scripture
This is a book of scripture which members of the Church of Jesus Christ of Latter-day Saints believe comes from God and was translated by Joesph Smith. It contains the story of ancient inhabitants of the American continent and God's dealings with them.

When I read it I feel the influence of the Holy Spirit and he inspires me to do good, love others, and hope to return with my family to live with God after this life.
View in iTunes
Free

Category:

Christianity

Published:

Mar 01, 2013

Publisher:

The Church of Jesus Christ of Latter-day Saints

Seller:

The Church of Jesus Christ of Latter-day

Print Length:

1177 Pages

Language:

English
More by The Church of Jesus Christ of Latter-day Saints