The Book of Thomas
Volume One: Heaven
Robert Boyczuk
This book can be downloaded and read in iBooks on your Mac or iOS device.
Description
"The mind is its own place and in itself, can make a Heaven of Hell, a Hell of Heaven." —John Milton, Paradise Lost

In the beginning, the Church ruled all the Spheres of the Apostles. But that was millennia ago, before the origins of this massive, artificial realm were forgotten. Now, drought, plague and war afflict the Spheres that make up the world of Man, fragmenting society into antagonistic sects that carry out ruthless pogroms.

A young orphan, Thomas, is thrust into the midst of this upheaval and embarks on a journey to the highest of all Spheres, Heaven. As he struggles through his chaotic, crumbling world, Thomas witnesses cruelty and violence beyond measure—and chances upon unexpected moments of courage and self-sacrifice. In this turmoil, his belief becomes doubt as he is forced to make soul-rending choices between what his faith tells him he should do, and what he must do to survive.

The Book of Thomas: Heaven is the unflinching, deeply affecting tale of the battle that reason and religion wage for a boy's soul.
From Publishers Weekly
Sep 17, 2012 –
Earth has been divided into 14 Spheres, physical planes that act as separate worlds, all theoretically ruled by the Church. Something is starting to go wrong with the system, however, and a boy named Thomas becomes an unwitting keystone to a conspiracy that crosses all the Spheres and takes him from his orphanage to the Holy See of Rome and beyond. This postapocalyptic passion play is a lushly written but ultimately unsatisfactory quest plot with underrealized characters. Boyczuk (Nexus: Ascension) leaves vital revelations far too late; the conspiracy is a tenuous thread to tie together the laborious first-person travelogue of Thomas s journey, and it leaves the reader with more questions than answers. Much of this could be forgiven were it not for the use of sexual violence to provide cheap characterization and flat motivations for most of the story s action.
Screenshots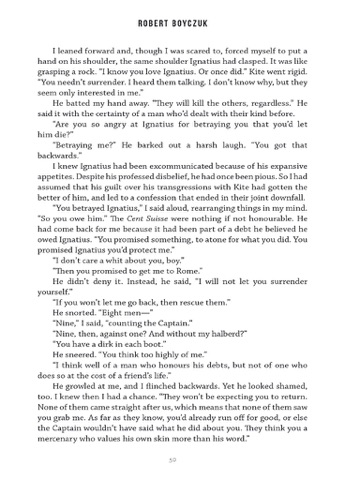 View in iTunes
$9.99

Category: Sci-Fi & Fantasy
Published: Nov 15, 2012
Publisher: ChiZine
Seller: Trajectory, Inc. (Books)
Print Length: 300 Pages
Language: English