The Enemy
Book 1, The Enemy
Charlie Higson
This book is available for download with iBooks on your Mac or iOS device, and with iTunes on your computer. Books can be read with iBooks on your Mac or iOS device.
Description
A sickness has afflicted everyone over the age of 16; anyone who is a "grown-up" has become a decomposing, brainless creature that survives by feeding on children. The children and teens have barricaded themselves in fortified buildings, fighting off attacks from the grown-ups who travel in packs, like hungry dogs. Before long, the young survivors are promised a safe haven in Buckingham Palace and make their way to it, crossing London on a perilous journey that will test them in harrowing ways. But their fight to stay alive is far from over-the threat from within is as real as the one on the outside.
From Publishers Weekly
Apr 19, 2010 –
Lord of the Flies meets 28 Days Later in this disturbing postapocalyptic adventure. Higson (the Young Bond series) presents a kids-only world with shades of Michael Grant's Gone books, though in this case, a disease has turned everyone over the age of 16 into mindless, flesh-eating nightmares, terrorizing and devouring those unaffected. Packs of resourceful kids have holed up in supermarkets, constructing defenses, foraging for supplies, and fighting off feral "grown-ups." For the group sheltering in a Waitrose store, it's a ceaseless battle for survival, where even the simplest expedition can prove fatal. When the possibility of a haven arrives, the Waitrose kids band with new allies as they make a hazardous trek across London to the promised land: Buckingham Palace. Alternately bleak and defiant, this splatterfest doesn't pull any punches ("The skin blackened, shriveled and split, the overripe flesh inside squeezing out.... This was what happened if any grown-up lived long enough to let the disease run its full course") nor is any character safe. It's up to a sequel to sort out some plot threads, but this is a solid start. Ages 12–up.
Screenshots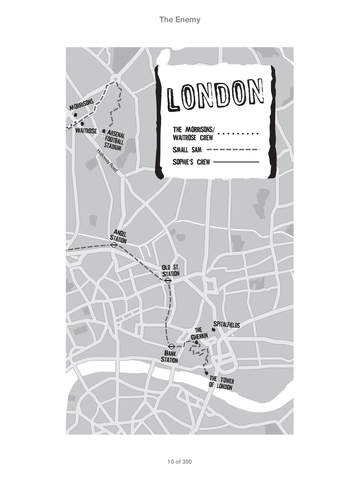 Customer Reviews
And I'm 30...
I had to check this out because my brother said a character from this book reminded him of me. Apparently I talk like "the Kid." For young adult fiction this is pretty good. It's definitely a good choice if you're sick of vampire and werewolf love triangle dramas!
Awesome......but
It was an awesome book but i got lost near the end wat happened did they die or wat
Awesome
The title of the review says it all!!!!
Other Books in This Series
View in iTunes
$8.99

Category: Horror, Monsters & Ghosts
Published: Jun 23, 2010
Publisher: Disney Book Group
Seller: Disney Publishing Worldwide
Print Length: 448 Pages
Language: English
Series: Book 1, The Enemy