The Extraordinary Music of Mr. Ives
The True Story of a Famous American Composer
Joanne Stanbridge
This book can be downloaded and read in iBooks on your Mac or iOS device.
Description
When the Lusitania was attacked in 1915, the American composer and New Yorker Charles Ives transformed the experience of this heartbreaking news into a musical piece. It begins with a jumble of traffic noises, then the hurdy-gurdy swells into the lovely old hymn "In the Sweet Bye-and-Bye." In lyrical text and watercolors—sometimes in dramatic wordless spreads—this thoughtful picture ebook reveals not only a wartime tragedy, but a composer's conviction that everyday music can convey profound emotion—and help heal a city. Young readers will understand that if they listen, music can be heard in the unlikeliest of places, from the busy chatter of a market to the wail of a fire engine.
From Publishers Weekly
Dec 24, 2012 –
This startling biography of Charles Ives centers on a historical tragedy and its impact on the composer, whose work was unappreciated during his lifetime. "People don't listen to his music," writes Stanbridge (My Four Lions). "They want familiar tunes and beautiful harmonies not songs that are as bold as a city or as noisy as a traffic jam." In 1915, when Ives hears news of the Lusitania sinking, the music that "lives inside him like a friend" goes silent. Five successive, wordless spreads depict the foundering vessel and panicked passengers evacuating. Stanbridge's doll-like figures contrast uncomfortably with the silent scenes of disaster, as terrified individuals in a small boat look back at those clinging for life. Ives begins to hear music again when mournful New Yorkers join in song together: "In the sweet bye and bye,/ we shall meet on that beautiful shore." Stanbridge's work is its own curious, yet quietly inspired composition, a meditative ode to an artist whose work lives on "in everyday sounds in the rumble of a motorcycle, the wail of a fire engine, or the busy chatter of a market." Ages 4 8.
Screenshots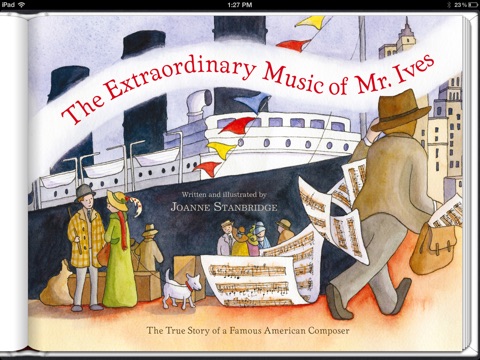 View in iTunes
$12.99

Level: Grades P-3
Category: Biography
Published: Oct 09, 2012
Publisher: Houghton Mifflin Harcourt
Seller: Houghton Mifflin Harcourt Publishing Company
Print Length: 32 Pages
Language: English
More by Joanne Stanbridge