The Great Wall
Book 3, Wonders of the World Books - The Story of Thousands of Miles of Earth and Stone that Changed a Nation into a Fortress
Elizabeth Mann & Alan Witschonke
This book can be downloaded and read in Apple Books on your Mac or iOS device.
Description
The Mongols were nomadic warriors of legendary skill and savagery. Their empire encompassed most of the known world from Asia to Europe, from the Middle East to the Sea of Japan. Now the unstoppable horsemen were bearing down on China. For the Chinese, there seemed only one solution: turn their country into a vast fortress.
The Great Wall chronicles a people's struggle for absolute security in a violent and dangerous world. It is a story of incredible success and ultimate failure, of ingenuity, the will to survive and, in the end, futility.
"...beautiful and informative...thoughtful...thrilling..."—A Book of Special Note, Kirkus Reviews. "2,000 years of Chinese history read like an adventure story."—The Sacramento Bee "A stunning visual history..."—Library Talk
From Publishers Weekly
Sep 29, 1997 –
In this Wonders of the World title, Mann (The Brooklyn Bridge) sets the story of the Great Wall into a thorough yet concisely wrought framework of Chinese history and culture. Noting that the differences between the traditions of the Chinese and those of the nomadic Mongols led to centuries of conflict, Mann describes how rulers from various dynasties--beginning with China's very first emperor, Qin Shi Huangdi, who died in 210 B.C.--attempted to build walls to protect their people from the bellicose nomads. When the Mongols became even more powerful and feared in the mid-15th century, the Ming court began the colossal task of building the Great Wall, a laborious process that Witschonke illustrates in two full-page, informatively captioned pictures. The artist also offers some enticing panoramas of Chinese landscapes and several dynamic action scenarios: on horseback, Genghis Khan and his warriors charge at the reader; and a four-page foldout shows the Mongols attacking one of the Great Wall's forts. Reproductions of Chinese art cap this accessible view of a momentous era. Ages 8-up.
Screenshots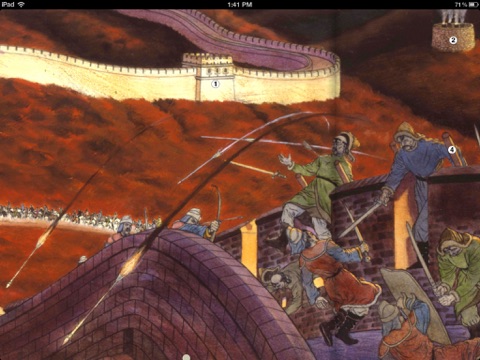 Other Books in This Series
View in iTunes
$6.99

Level: Grades 3-8
Category: General Nonfiction
Published: Jun 01, 2012
Publisher: Mikaya Press
Seller: Mikaya Press Inc.165301499
Print Length: 75 Pages
Language: English
Series: Book 3, Wonders of the World Books
More by Elizabeth Mann & Alan Witschonke