The Illustrated Oz Collection (Vol. 1)
The Wonderful Wizard of Oz, The Marvelous Land of Oz, Ozma of Oz
L. Frank Baum and Others
This book can be downloaded and read in Apple Books on your Mac or iOS device.
Description
Start your Oz adventure today with the first collection in a series of L. Frank Baum's Oz novels, fully illustrated with the original drawings by artists W. W. Denslow and John R. Neill. This collection includes:

THE WIZARD OF OZ (1900)
Possible the most popular children's novel in American literature and a fairy tale for the twentieth century, The Wizard of Oz has stirred the imagination of young and old for over five generations. After a plucky little farm girl's Kansas farmhouse is swept away by a tornado, Dorothy Gale and her dog Toto travel to a fantasy land called Oz, full of fantastic creatures and curious peoples. Along with her companions — a scarecrow, a tin woodman, and a lion — she seeks the gates of the Emerald City, where the all-powerful Wizard of Oz lives. But she also runs afoul of a villainous witch, who controls a dreaded army of winged monkeys.

THE MARVELOUS LAND OF OZ (1904)
The direct sequel to Wizard, The Marvelous Land of Oz follows the further adventures of Dorothy Gale's companions as they meet old friends and develop new alliances with many characters who would reappear throughout the series (Tip, Jack Pumpkinhead, the Wooden Sawhorse, and the Highly Magnified Woggle-Bug. Tip, a young boy raised by a wicked witch named Mombi, assists the Good Witch Glinda to return the rightful rule the Emerald City throne.

OZMA OF OZ (1907)
The third Oz book takes place in the Land of Ev, beyond the dangerous and deadly desert surrounding the Land of Oz. When Dorothy Gale is blown overboard while sailing with her uncle, she finds herself transported to Ev. Dorothy is reunited with the Scarecrow, Tin Woodman, and Cowardly Lion, and meets some new favorites: the Hungry Tiger, whose appetite is never satisfied; Billina, a sassy talking hen; and Tik-Tok, a mechanical man. Together they set out to rescue the Queen of Ev and her ten children from the cruel Nome King, who's been more than a match for Ozma, the wise ruler of Oz.
Screenshots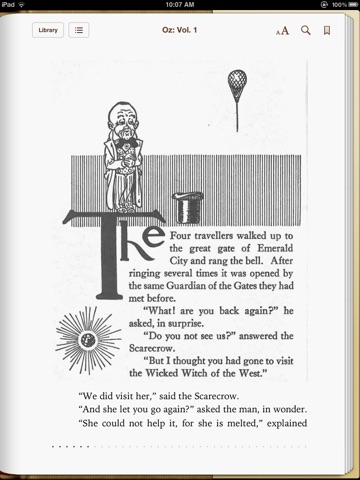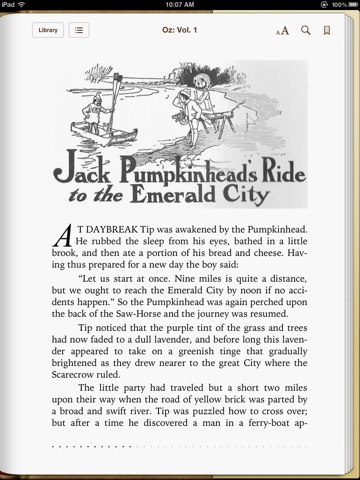 View in iTunes
$0.99

Category:

Classics

Published:

Jun 18, 2012

Publisher:

Bookbyte Digital

Seller:

Somerset Investments, Inc.

Print Length:

1000 Pages

Language:

English
More by L. Frank Baum, W. W. Denslow & John R. Neill