The Mediterranean Diet
Unlocking the Secrets to Health and Weight Loss the Mediterranean Way
John Chatham
This book can be downloaded and read in iBooks on your Mac or iOS device.
Description
From the Publisher of New York Times Bestseller The Mediterranean Diet for Beginners

The Mediterranean diet is a widely respected and highly acclaimed diet based on the food and lifestyles common to the people of Greece, Crete, and coastal Italy.

The Mediterranean Diet from best-selling nutrition author John Chatham will introduce you to the famed diet that has garnered endorsements from the Mayo Clinic, The New England Journal of Medicine, and U.S. News & World Report. With healthy Mediterranean diet recipes and easy-to-follow meal plans, you can lose weight permanently, and prevent or reverse deadly health issues from obesity, to diabetes and cardiovascular issues. The Mediterranean diet focuses on healthy ingredients and preparation, rather than reducing what you eat or counting calories. With hearty legumes, heart-healthy fats from foods like olive oil and seafood, and delicious, fresh ingredients, a Mediterranean diet will make weight loss easy and enjoyable.

The Mediterranean Diet will show you how to improve your health and reverse disease with:

• 60 flavorful Mediterranean diet recipes packed full of nutrients and flavorful ingredients
• Step-by-step instructions for integrating Mediterranean diet foods into your everyday life
• Simple guide to losing weight with the Mediterranean diet
• Top tips for for cooking with healthy fats and getting the most out of your ingredients

With The Mediterranean Diet, you can finally lose weight permanently while eating foods you actually enjoy.
Screenshots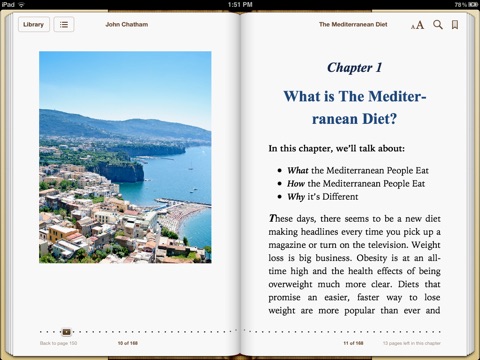 Customer Reviews
Delicious diet book
The best part of any diet is that it doesn't feel like a diet – you never want to feel deprived or hungry, or you won't be able to stick with it. The Mediterranean Diet focuses on delicious foods for people who definitely love to eat.

This book doesn't focus on calories, but instead on good, healthy food and portions. Small meals all day long keep you from getting too hungry and gorging later. Including natural and seasonal foods is important. The Mediterranean people are praised for eating locally and seasonally and mindfully. It makes eating seem fun and natural, part of a life that is healthy and beneficial.

This is a great read with a lot of choices and simple reasoning. The recipes are fresh, easy, and delicious - the author does a great job at explaining why these particular foods work with your body and it seems like they can fit into any lifestyle.
Delicious Simplicity
With the Mediterranean diet, there's no need to hate yourself or feel like your depriving yourself. By changing our outlook on food and the kinds of food we eat, The Mediterranean Diet: Unlocking the Secrets to Health and Weight shows just how simple this new eating lifestyle can be, and it's described in an even simpler way. Counting calories is no longer the method for success, which is a relief for anyone else who relies heavily on their calculator. Not only does this book act as a guidance counselor, but it is also your support team rolled into one complete package.

Recipes, tips and tricks, as well as a new and improved food chain in the book, help explain the ease of the diet. By focusing more on what we CAN eat and not what we CAN'T eat, the book shows that stressing the importance of fresh and simplistic meals is the key to a healthier diet and way of living. It provides proof of the diet's abilities by showing the lifestyle of the Mediterranean people.

The idea of looking at meals differently gives a whole new perspective on food and our lifestyle. How many diets can make that claim?
Creative, colorful, and practical
Discovering why you choose the foods you eat is the question The Mediterranean Diet will help you answer. You'll learn to make healthy decisions and select foods that make sense based on who you are and where you live. If you love food and hate counting calories, learn how to celebrate your meals and make colorful choices to help change why and how you eat. The Mediterranean Diet contains appetizing ideas for meals throughout your day that won't demand drastic lifestyle changes or empty your wallet.
View in iTunes
$5.99

Category:

Health & Fitness

Published:

Jul 02, 2012

Publisher:

Rockridge University Press

Seller:

Callisto Media, Inc.

Print Length:

56 Pages

Language:

English