The Monsters' Monster
Patrick McDonnell
This book can be downloaded and read in iBooks on your Mac or iOS device.
Description
Once upon a time, there were three little rascals who thought they were the BIGGEST, BADDEST monsters around. Then along came an even BIGGER monster who changed their minds. And all it took was two little words.
In this playful tale from bestselling picture book author Patrick McDonnell, a very BIG monster shows three very BAD little monsters the power of boundless gratitude.
From Publishers Weekly
Jul 16, 2012 –
In the 1931 movie Frankenstein, the monster was capable of kindness and innocence, but the villagers turned on him anyway. McDonnell s (Me... Jane) monster is even more prone to acts of sweetness and generosity much to the dismay of his creators. Three runty, bean-nosed monsters named Grouch, Grump, and little Gloom n Doom (he has two heads) decide to settle their perpetual quarreling about which of them is the meanest by making a monster monster. The biggest, baddest monster ever! Like Frankenstein s monster, theirs has the same flat head, neck bolts, and automaton walk. He s strong enough to smash castle walls, but he has unexpectedly lovely manners. His first words are Dank you! and his first impulse is to hug the little monsters tight. McDonnell s greatest strength is to explore with tenderness the finest instincts humans show, without making them prissy or maudlin. The monster s goodness (and some jelly doughnuts) transform the three little monsters in an entirely believable way: Monster looked at them and smiled. They smiled back. Another winner from McDonnell and good Halloween fare, too. Ages 3 6.
Screenshots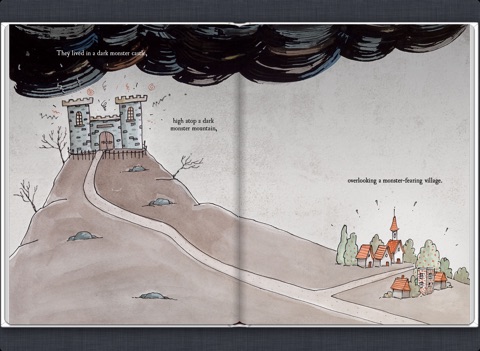 Customer Reviews
Awesome artwork
My son had fun playing with all the animations. Doom and Gloom are her favorite.
Monster's Monster
I absolutely LOVE this book. As a teacher, this book has become a staple for me. I have shared it with students from kindergarten to fifth grade. This year I will introduce it to my 8th grade... As a companion to their novel, Frankenstein!
View in iTunes
$9.99

Level: Grades P-3
Category: Social Issues
Published: Sep 04, 2012
Publisher: Little, Brown Books for Young Readers
Seller: Hachette Digital, Inc.
Print Length: 32 Pages
Language: English
More by Patrick McDonnell