The Red Rooster Cookbook
The Story of Food and Hustle in Harlem
Marcus Samuelsson
This book can be downloaded and read in iBooks on your Mac or iOS device.
Description
Southern comfort food and multicultural recipes from the New York Times best-selling superstar chef Marcus Samuelsson's iconic Harlem restaurant.

When the James Beard Award-winning chef Marcus Samuelsson opened Red Rooster on Malcolm X Boulevard in Harlem, he envisioned more than a restaurant. It would be the heart of his neighborhood and a meet-and-greet for both the downtown and the uptown sets, serving Southern black and cross-cultural food. It would reflect Harlem's history. Ever since the 1930s, Harlem has been a magnet for more than a million African Americans, a melting pot for Spanish, African, and Caribbean immigrants, and a mecca for artists.

These traditions converge on Rooster's menu, with Brown Butter Biscuits, Chicken and Waffle, Killer Collards, and Donuts with Sweet Potato Cream. They're joined by global-influenced dishes such as Jerk Bacon and Baked Beans, Latino Pork and Plantains, and Chinese Steamed Bass and Fiery Noodles. Samuelsson's Swedish-Ethiopian background shows in Ethiopian Spice-Crusted Lamb, Slow-Baked Blueberry Bread with Spiced Maple Syrup, and the Green Viking, sprightly Apple Sorbet with Caramel Sauce.

Interspersed with lyrical essays that convey the flavor of the place and stunning archival and contemporary photos, The Red Rooster Cookbook is as layered as its inheritance.
 
From Publishers Weekly
Aug 15, 2016 –
With four cookbooks and two memoirs already under his belt, Samuelsson at last turns his attention to what has made him a celebrity in New York and beyond, his Harlem restaurant, the Red Rooster. Harlem and its history are never far from the chef's mind, with numerous profiles of uptown denizens, like Billy Mitchell of the Apollo Theater, sharing space with soulful recipes and joyful tales of working uptown. The section on chicken is entitled "Birdland" and, as with each of the dozen chapters, comes with a suggested playlist of classics to listen to while cooking. The chapter showcases his classic fried yardbird, with its dark meat chicken soaked overnight in a marinade of coconut milk, buttermilk, and spices. For brunch, there is Aunt Maybel's ham buns and chocolate gravy, and we learn that when President Obama came for dinner there were short ribs braised in plum sauce along with a vegetable medley featuring the unlikely combination of sweet potatoes, green beans, and jalapenos. Fisher's food and street photography colorfully captures the character of Samuelsson's dishes as well as the characters that inhabit his neighborhood.
Screenshots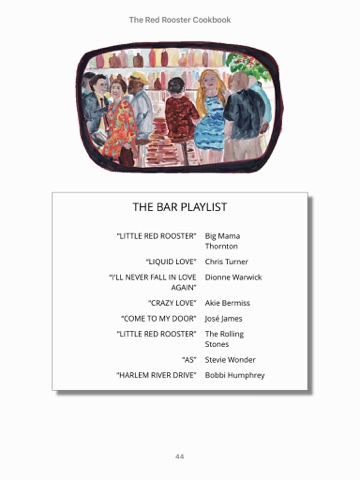 View in iTunes
$19.99

Category: Cookbooks, Food & Wine
Published: Oct 18, 2016
Publisher: Houghton Mifflin Harcourt
Seller: Houghton Mifflin Harcourt Publishing Company
Print Length: 352 Pages
Language: English
Version: 1.0
More by Marcus Samuelsson